West Ham United
Under-fire Hart needs time to adapt to West Ham, says Schwarzer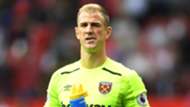 Mark Schwarzer has backed Joe Hart to come good at West Ham after a difficult start to life back in the Premier League. 
The ex-Manchester City No.1 has come under fire for his performances since returning to England following a loan spell at Torino.
West Ham have conceded a whopping 13 goals this season, a record only equal to that of rock-bottom Crystal Palace after six games. 
But according to Schwarzer, Hart will return to his best form, which will in turn galvanise the struggling Hammers. 
"Joe Hart is a very good goalkeeper, England's No.1," the ex-Fulham and Chelsea shot-stopper explained to Goal.
"Obviously, he had a difficult season recently but to come back to England and playing for West Ham would be very good for his career and maintaining No.1 in England team.
"He would need time to adjust in West Ham. It's a very different team to Man City. West Ham is not performing very well until now, but I think it won't be long for Joe Hart to play his best."
Schwarzer also backed Hart to retain his place as England's first-choice goalkeeper despite his recent slump.
"I think so, yes, because he needs to play regularly in England. This is the best league, most challenging league in the world," he said.
"It's a new challenge for him. He needs to more involved for his team and also he needs to change his game a little bit."
One Premier League No.1 who has been at the top of his game recently is Tottenham's Hugo Lloris, and Schwarzer believes he is up there with the league's best.
 
"He's an excellent goalkeeper. He's getting better and better with age. He's a very important player for Tottenham, he's been a big part of Tottenham being defensively very strong," the Australian added.
"He's a leader, he's a captain of the team. I believe his overall game has improved a lot since he came to Premier League."