Africa Cup of Nations
'Uganda played better football than Ghana' says Cranes midfielder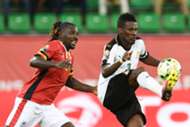 Uganda may have lost their Nations Cup opener when they were beaten 1-0 by Ghana in Port-Gentil on Tuesday, but Cranes midfielder Hassan Wasswa believes that the East Africans were better than their vanquishers.
Milutin Sredojevic's side have had to wait almost four decades to return and take their place among the continental elite in Gabon, but while they ended up with no points after Andre Ayew beat Denis Onyango from the spot in the first half, the Cranes were largely happy with their overall performance.
Indeed, speaking to Goal in light of the match, Al-Nejmeh's Wasswa even insisted that the Cranes could have deserved a little more from the match.
"We played better football than Ghana, and no one expected us to play [as well]," Wasswa began. "It was our first time [at the Nations Cup] in a long time and we gave our all.
"We gave our best, but eventually the better team won."
Wasswa also noted that Avram Grant's decision to invest more heavily in his defence after taking the lead also made it harder for the Cranes to build a coherent attacking threat after capitalising from Isaac Isinde's error.
"This is football, you make a silly mistake and you get punished, and that's what we did," Wasswa added. "Ghana went behind the ball and it was difficult for us to penetrate them.
"Next game we have to look for our mistakes, work hard, and if we perfect them, we should get the results at the end of the day."
Wasswa also evaluated the Black Stars' chances of reaching the knockout rounds, insisting that his side still had as much chance of going through as 2015's finalists.
"The championship is still an open tournament," he continued. "Everyone who wins their own games has the chance to qualify.
"This was the first game of our group and it's not that Ghana have a better chance to qualify [than us], but they have to work hard to qualify.
"They play against Egypt, they play against Mali, and if they lose against those other teams and we qualify, we go through," Wasswa concluded. "Each team must win their own games and then we'll see what will happen."