NPFL
Our fans inspired us to Kano Pillars win - Katsina United's Udechukwu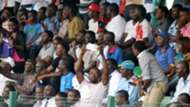 Katsina United's Chinedu Udechukwu attributes Wednesday's victory over Kano Pillars to the role of their fans at the Karkanda Stadium.
Udechuckwu's goal was enough for the Chanji Boys to grab a 1-0 win over their rivals. And the striker says their supporters spurred them on to get the win.
"The victory delighted everyone in Katsina United," Udechukwu told Goal.
"It was a win we had really worked for and we thank God that we were rewarded with the three points.
"The fans must also be commended for doing a very good job. They were in their thousands and they supported us from the beginning till the end. They were the ones that inspired us to get the win and I am dedicating it to them.
"So much was said about the match before it began but I want to thank God for ensuring that everything went smoothly and without any major talking point."
Katsina United are 11th in the league table with 41 points from 30 matches and Udechukwu has contributed five of the team's goals this season.