African All Stars
Twitter reacts to Salisu Yusuf's Number 12 Extra bribery scandal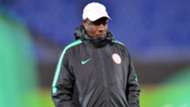 Nigeria coach Salisu Yusuf has been exposed to have received $1000 cash from undercovers to influence his team selection.
Salisu who has been the Gernot Rohr's assistant since 2016, led the Super Eagles to a second place finish at the 2017 Wafu Cup of Nations in Ghana and at the African Nations Championship in Morocco in February.
However, the revelation did not come as a surprise to Nigerians who described as the act 'DNA of the country's football' while some were disappointed by the action from a high-ranking local coach.
Salisu Yusuf earns 3 Million Naira per month but still receives bribe from players and their agents just so they can play.

This has nothing to do with village people. It's just greed and it's a true reflection of who Nigerian leaders are.

— Wale Adetona (@iSlimfit) July 24, 2018
Nigeria's top football coach, Salisu Yusuf, has been caught on camera taking cash. The footage, exposed here for the first time, was captured by controversial Ghanaian investigative journalist @anasglobal and recently handed to #BBCAfricaEye. pic.twitter.com/O3RQTYJTJK

— BBC News Africa (@BBCAfrica) July 24, 2018
The moment Anas presents himself as representing the interests of any player(s), immediately receiving money from him becomes wrong and/or unethical, whether or not those players would have gotten into the team without Anas' input.

Simple. Open and shut. Good bye, Salisu Yusuf.

— Solace Chukwu (@TheOddSolace) July 24, 2018
And again, @anasglobal massa preferred to be handed rounded sums...where's the remaining $250? Why leave him with a $1000 impression when all that was there was $750? 😫 https://t.co/bsoYQTV9ti

— Tolu Olasoji (@Tollexrism) July 24, 2018
Salisu Yusuf: Earns ₦3m a month.

Caught on camera receiving ₦360k from fake players agents.

That's the definition of Village people

— MikeThePundit (@MichaelImianvan) July 24, 2018
May God not tempt us.

What does the BBC mean by "Salisu Yusuf's career was previously untainted"?

— Fisayo Dairo (@FisayoDairo) July 24, 2018
Are we seriously shocked with the Salisu Yusuf expose???

This has been a part of Nigeria's football DNA for years.

Na who dem catch be thief!!!

He even had the audacity to claim it was $750 not $1000.

— Olawale Omo Adigun (@olywal) July 24, 2018
My take on BBC video of Salisu Yusuf!!! There was nowhere in that video that he asked for money, he was offered and even said players are picked based on form and performance.

— Sylvester Idjessa (@SIdjessa) July 24, 2018
🇳🇬 Chief Coach of the National Team Salisu Yusuf filmed accepting Bribe @BBCAfrica
🤦🏾‍♂️🤦🏾‍♂️🤦🏾‍♂️🤦🏾‍♂️
He was part of #superEagles #worldcup managerial staff in #Russia2018 pic.twitter.com/ExiVAhJ9xJ

— Wale Gates 🇳🇬🇬🇧 (@walegates) July 24, 2018
Caught on camera is Super Eagles Chief Coach, Salisu Yusuf taking cash from reporters led by Ghanaian, Anas posing as football agents who wanted their players to be selected for CHAN 2018. - A simple explanation to why African Football is still where it is pic.twitter.com/RoFMTzZ4Dp

— Bhadmus Hakeem (@Bhadoosky) July 24, 2018
Anas Anas has revelation about Super Eagles chief coach, Salisu Yusuf for the world tomorrow via BBC. Seems, Salisu is about to be expose. Heard revelation might come from 2017 WAFU Cup in Ghana or 2018 CHAN in Morocco.

Let's wait for it. The fear of Anas.

— Adepoju Tobi Samuel (@OgaNlaMedia) July 23, 2018
Almost Convinced myself saying it was a gift jare.

Until the reporter Said: "If anything goes through and those players are able to get their contract, you'll get 15% of that contract"

And Salisu Yusuf Replied: They will be in CHAN

Bribery shouldn't be allowed in Football

— Osas Cruz (@OsasCruz) July 24, 2018
Can we say it is poverty that made a man ( Salisu Yusuf ) who earns N3 Million monthly to accept a bribe of N360,000? No. It is greed. And there are many like him in the public and private sector. pic.twitter.com/knotCPjqVw

— Tunde Eleniyan (@KobokoGCFR) July 24, 2018
This Salisu yusuf case is just blown out of proportion. He made it clear that players are selected based on performance and that was the case.

— Shina (@ondo_prince1) July 24, 2018
Salisu Yusuf(Head coach of the Chan Eagles and also among the coaches of the Super Eagles) caught on Tape receiving Money(Bribe) from agents and assuring them the players they represent will be in Chan is one Big disgrace and should be not treated in a soft manner.
Shame

— Buchi Laba Laba 🦋🦋🦋 (@Buchi_smallzy) July 24, 2018
In any sane environment, Salisu Yusuf would have resigned before any futile attempt to clear his name

He's instead shamelessly negotiating the amount. They s is one of the reasons I'll always advocate for foreign coach.

Once he's found guilty, he should be banned as an example.

— Okhuosi Larry Eghosa (@larryeghosa) July 24, 2018
The Chief Coach of the Super Eagles, Salisu Yusuf action collecting bribe for team selection for a major tournament is not new in Nigeria & Africa at large.

99% of African players that made it to the top, experienced it at one time or the other in their career. It's a sad norm!

— Ayanbisi Temitope. A (@Dr_Aphiz) July 24, 2018
Am not really surprised about Salisu Yusuf and his scandal. Bribery is in the genes of African coaches and even FA officials.
Little wonder Nigeria that easily topped her group at USA 94 and France 98 now found it difficult qualifying for second round 24 years later in Russia.

— Dennis O. Adesanoye (@stdennis02) July 24, 2018