Transfers
Turkish club Konyaspor terminate Samuel Eto'o's contract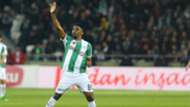 Former Cameroon captain Samuel Eto'o has left Turkish side Konyaspor after his contract was terminated by mutual consent.
Eto'o joined Konyaspor in January this year on a two-and-half-year deal but only lasted seven months at the club and his next move is still unknown.
With a club career that has stretched for 21 years, as well as his heavy involvement in Caf activities as a legend in recent years, the possibility of retirement cannot be ruled out.
According to TurkishFootballNews, Eto'o did not agree to a salary cut as Konyaspor sought to reduce costs, before both parties agreed to end their working relationship.
The four-time African Footballer of the Year bade his Konyaspor teammates farewell on Friday before the club confirmed his departure.
"Our contract with Samuel Eto'o, our professional football player, has been terminated mutually on the basis of the negotiations we have had," announced Konyaspor in a statement.
"Our footballer Eto'o made important contributions in every sense while wearing our team shirt during both training and matches and he has shown the maximum level of effort.
"We thank Samuel Eto'o for his contributions to the club and his services. We hope that will bring beauty, happiness and success to his future after a farewell to each other in warm and sincere feelings."
Konyaspor was the Cameroonian's second Turkish club after he joined them from rivals Antalyaspor where he had spent two-and-half seasons.
Futbolcumuz Samuel Eto'o ile karşılıklı olarak sözleşmemizi feshettik

🖇️ https://t.co/fn3DGrsA90 pic.twitter.com/nVSYzTcsgQ

— Atiker Konyaspor (@konyaspor) August 3, 2018