Transfers
Tottenham target Grealish will have to be sold by Aston Villa - Bruce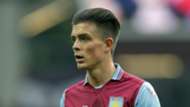 Tottenham target Jack Grealish will have to be sold by Aston Villa this summer, manager Steve Bruce has admitted.
Villa must raise £40 million if they are to comply with Financial Fair Play regulations, after heavy spending led to an unsuccessful bid for promotion back to the Premier League last season.
Grealish was central to that charge, playing superbly throughout the latter half of the campaign and in the play-off final defeat to Fulham.
Spurs are reportedly interested in securing a cut-price deal for the 22-year-old, with some suggesting they hope to agree a deal worth £20m for the versatile attacking midfielder.
And Bruce, who decided not to leave Villa despite their financial troubles, concedes that they have no other choice but to cash in on their star players.
"There will be nobody feeling sorry for Aston Villa because financially we have got ourselves in a bit of a pickle, so yes we have got to be ready for that," he told Sky Sports News.
"I have enjoyed working with Jack, and Jack is the obvious one that clubs [are going to target] because he had a wonderful six months
"He reminded everybody as a 22-year-old what a very good player he is. On another day at Wembley he could have scored one of the great Wembley goals.
"He is a special talent, a real special talent, and yes, you don't want to lose him but the inevitable thing is we have to. We have to - to keep the club up and running and keep it in line with Financial Fair Play."
Bruce maintains that, if he had the power to keep Grealish at Villa, he would, even though he foresees a situation where Spurs may wait until transfer deadline day to make their move in an attempt to secure the player on the cheap.
"Inevitably that is going to be player sales," he said when explaining how Villa would need to raise money.
"There are going to be people that I do not want to sell - and the obvious one is Jack - but people will know that we have got financial problems and they'll sit and wait, and wait, till deadline day possibly.
"I hope that doesn't happen but we've got to batten down the hatches and wait for it."