England
'They play more football now' — Podolski praises England's departure from 'rugby style'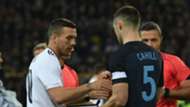 Lukas Podolski says England have evolved from a "rugby style" under Gareth Southgate, with less emphasis on the physicality that defined the Three Lions in the past.
Podolski made the comments after scoring the lone goal in a 1-0 German win over England at Signal Iduna Park on Wednesday, capping the 31-year-old's final international appearance in style.
After the match, Podolski was full of praise for Germany's opponent, with whom he has a familiarity after having spent three years with Premier League side Arsenal.
"England have a good team, a good manager, they play a different style to before," Podolski told reporters. "Before it was a like a rugby style. They were physical, but they play more football now. They have a good team, good guys, good characters."
Podolski was happy to play his 130th and final game for Germany against England, saying that the clash at Borussia Dortmund's ground added to the storybook feeling of his concluding fixture.
"For me, it was an amazing evening - like a movie," he said. "My last game against a good team in a very nice stadium, I scored a goal and 1-0. It's like a movie. Of course, it was the perfect end."