Premier League
'There's still a place for Zlatan' - Neville sees Man Utd roles for Ibrahimovic and Rashford under Mourinho
Zlatan Ibrahimovic and Marcus Rashford have important roles to play at Manchester United heading forward, says Gary Neville.
The former has been a talismanic presence for the Red Devils this season, netting 28 goals, while the latter provided impressive cover for the Swede in a 2-0 victory over Chelsea on Sunday.
Rashford's performance in that contest has re-opened the debate regarding the need to get him more minutes as a central striker, with the presence of Ibrahimovic often denying him that opportunity.
Rashford shows there's life after Ibra
Neville, though, believes that United should be looking to get the most out of both men while also adding to their striking pool when the transfer window re-opens this summer.
He told Sky Sports: "Would Zlatan have done to Chelsea what Rashford did? Absolutely no chance,
"But would Rashford have done in that EFL Cup final what Zalatan did? Probably no chance, it would be very difficult.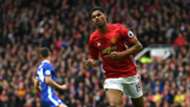 "There's still a place for Zlatan. I used to like being part of a squad that had four strikers. Actually you had a Zlatan, you might have had a Chicharito to come on and you had a Rashford.
"Why can't you have three or four strikers and pick from a pool? It's not like Zlatan plays or nothing. On Sunday he looked delighted when the team scored and he worked when he came on. I don't see why it has to be an either or, they can play together potentially.
Young: Utd aiming higher than fourth
"I'd like to see Zlatan stay in a different role to what he's had this season where it's him or nothing.
"I'd like to see him phased over another season whereby [Anthony] Martial, Rashford and maybe someone else comes in and you see a changing of the guard, but you still have the experience that is required there."
United have been heavily linked with several attacking options ahead of the summer, with Atletico Madrid forward Antoine Griezmann considered to be a top target.