Al Jazira v Al Wahda
The UAE Super Cup | Date, time, channels and numbers
The Baniyas Stadium opens its doors to the Abu Dhabi Derby between Al Jazira and Al Wahda for the UAE Arabian Gulf Super Cup on the 20th of January 2018, at 20:00. The game was supposed to be played in Egypt on the 4th of January, but the UAE national team's qualification to the Gulf Cup Final postponed the game and it was decided that it will be played on UAE grounds.
The Super Cup last year was played between Al Jazira and Al Ahli, with the latter winning 2-1 to win the trophy for the 4th time in their history to become the 2nd most team to win it behind Al Ain with 5 wins.
Every year the Arabian Gulf Super Cup brings together the league winner and the President's Cup Winner, with Al Jazira winning the league last year and Al Wahda winning the cup.
The Pride of Abu Dhabi is coming away from an important win against Ittihad Kalba in the Round of 16 of the UAE President's Cup while Al Wahda also won in the same round against Emirates 2-1.
Both sides in the league
Last season, the Spider won the league with 68 points to qualify for the AFC Champions League Group Stage while Al Wahda finished the season in 5th place with 39 points.
Despite finishing in a mid-table position in the league, Al Wahda managed to defeat Al Nasr 3-0 in the final of the cup, but the real surprise came when they thrashed Al Jazira 6-0 in the quarter finals.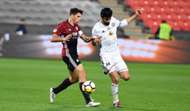 This season, there have been 12 games played between both sides and their last meeting in the league was just a few weeks ago when Al Wahda defeated Al Jazira 4-2 away from home. Al Wahda then beat Dibba 3-1 in the coming week, and Al Jazira drew 1-1 with Ajman.
Al Wahda are in 2nd place with 26 points, while Al Jazira are in 5th place with 17 points.
Facts and numbers for the game
There was only one other Super Cup which saw an Abu Dhabi Derby, when Al Wahda defeated Al Jazira on penalties (7-6) after drawing 2-2 during extra time in the 2011 version of the trophy.
Al Wahda have played in the Super Cup final twice, winning it in 2010 against Emirates and in 2011 against Al Jazira.
Al Jazira have never won the cup before despite playing in it 3 times, in 2011, 2012 and 2016.
Al Wahda have achieved the biggest ever win in the Derby with a 6-0 win against Al Jazira this time last year in the President's Cup.
In 64 meetings between both sides, Al Wahda won 27, Al Jazira won 21, and they drew 16 times.