Young Africans
The teams need to play by the rules and have discipline warns Nkongo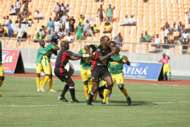 Referee Israel Nkongo who has been picked to officiate the eagerly awaited clash between the defending champions Yanga and Azam FC has assured the two side a fair game with the 17 rules of the game being observed Goal can reveal.
Nkongo who is said to have passion with one of the country's bigwigs, refuted the claims and assured the two sides that match will be officiated fairly so there is no need of having doubt on him on being unfair as no side will be favored.
"Am not in love with any of the teams so people should stop talking unfounded accusation and instead all the teams need to do is play by the rules and have discipline and we officials we will ensure everything goes well in the 90 minutes of the game," said Nkongo.
Nkongo who is a Fifa badge holder since the 2011/12 season, was assaulted by Yanga players who claimed he was favoring their opponents Azam FC during a previous league game which ended with a 3-1 victory for the ice-cream makers club.