World Cup
The Mateo Kovacic mystery: Why Croatia ace has struggled so much at Real Madrid and Inter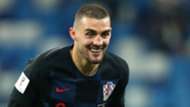 It was only last November that Real Madrid director general Jose Angel Sanchez declared, "Mateo Kovacic is not for sale. We will never sell him. He is one of the players Madrid rely on for the future."
Not anymore, it seems, with Kovacic set to be granted his wish to leave Santiago Bernabeu for regular game time elsewhere.
Unlike Cristiano Ronaldo's possible move to Juventus , Kovacic's exit will not cause anything like the same level of controversy in the Spanish capital. 
Indeed, the Croatia international will depart as exactly as he arrived: a total enigma; a mystery that nobody has yet solved.
The 24-year-old's ability is beyond dispute. When he joined Inter in 2013, club captain Javier Zanetti admitted that he had not seen a youngster of such talent since the Brazilian Ronaldo. 
A €15 million signing from Dinamo Zagreb, Kovacic looked a bargain. He was multi-skilled: an excellent dribbler, a penetrative passer and versatile. 
Compatriot Zvonimir Boban claimed he would surpass his achievements in Serie A, while Giovanni Trapattoni felt Inter had signed a "mix of Kaka and Seedorf". 
However, Kovacic's versatility became an issue. He was shifted about from position to position: left wing, forward, trequartista, regista, midfield. 
Unsurprisingly, his form fluctuated wildly. Roberto Mancini tipped him to become a "champion" but never worked out exactly what to do with Kovacic. 
When the Austria-born midfielder was sold to Madrid for €31m in the summer of 2015, the Inter boss insisted that he had not wanted Kovacic to leave, claiming the sale had been necessitated by the club's need to meet Financial Fair Player regulations.
Kovacic, though, was unconvinced. "I'm not sure if Mancini liked me or not," he told Sportske Novosti . "There was no relationship between us, neither positive nor negative.
"In the end, I was happy to leave because I don't know what would have become of me if I'd stayed there.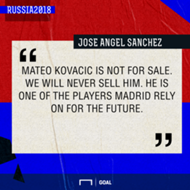 "I prefer to play as a holding midfielder. I've played further up the pitch and on the left wing and that's not a bad thing because it helps me to grow as a player. But I think Inter made a mistake by moving me around and changing my natural position.
"It was an honour to play for Inter, but without a doubt Real Madrid are of a higher level. In Italy the training sessions are really boring and sometimes you don't even use the ball.
"When I left, Mancini told me he was disappointed but, to be honest, while I was actually in the squad, I never got that feeling."
Mancini responded by suggesting that Kovacic's attitude was not right, even though others have always been at pains to praise his professionalism. 
"I respect his opinion, but we never went to the cinema or dinner together, as that's not my job," Mancini argued. 
"My job is to teach him and get the best out of my players. I tried to teach him that quality and talent are not enough..."
Given his inability to nail down a regular berth in the Inter team, Kovacic was always likely to struggle for game time in Madrid. 
In terms of trophies, his spell in Spain has been a success: he has won three Champions Leagues, and a Liga title. 
However, while he has proven a useful squad player, it is telling that he has made just 37 Primera Division starts in his three seasons at the Bernabeu.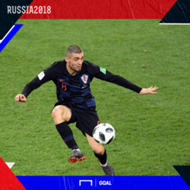 There have been impressive performances, most notably in last season's Supercopa, but he was also badly exposed defensively by Lionel Messi after being picked specifically to shackle the Barcelona No.10 in last December's Clasico at the Bernabeu.
As Trapattoni had previously alluded to, Kovacic is probably unsuited to a role that requires such tactical discipline.
"If left free to invent up front and with space, Kovacic can be very dangerous," the legendary Italian coach mused.
"He isn't a director like [Andrea] Pirlo. Kovacic tends to dribble more, has a lot of technique and great acceleration. He's a class player and I think his skills should be exploited to the best. I wouldn't burden Kovacic with tactical tasks now."
It is concerning, though, that at 24, Kovavic still doesn't appear strong enough defensively to operate in his preferred position of holding midfielder, and isn't prolific enough to justify playing in a more advanced position.
That is precisely why there is no room for him presently in the Croatia starting line-up. He is good but not good enough to get into the team ahead of the likes of Luka Modric and Ivan Rakitic. 
Still, he has impressed every time he has featured in Russia - he was arguably Croatia's best player in the win over Iceland, while he contributed an assist after coming on in the 3-0 rout of Argentina - and there is no shortage of interest in his services for that very reason.
Nobody has managed it yet but if someone can crack the Kovacic code, they will be unlocking a player of genuine world-class potential.