Ligue 1
The French Connection: Pietro Pellegri - Monaco's teenage sensation making Ligue 1 history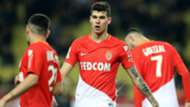 Monaco is a club with a track record of producing strikers of the highest calibre. France's record goal scorer and Arsenal legend Thierry Henry first broke through with the principality side, while Kylian Mbappe, the most prodigious striker in the world today, exploded through the ranks at Stade Louis II.
Now, Monaco have on their hands a 17-year-old Italian to follow in the footsteps of Mbappe. Indeed, when he scored against Bordeaux last weekend, he became the second-youngest player to find the net for the club in a top-flight game, eclipsed only by the teenage World Cup-winner.
Pietro Pellegri's goal owed much to his desire and opportunism. Realising that Bordeaux defender Jules Kounde was loitering carelessly on the ball, he swept it away from the inexperienced centre-back before converting calmly.
It was a milestone effort – he became the first player born in the 21st century to score in Le Championnat. Remarkably, he holds the same distinction in Serie A.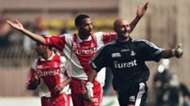 Eight months after arriving from Genoa for €25 million, Pellegri finally had his first Ligue 1 goal, though it took him only 29 total minutes on the pitch to get it.
Pellegri's stay at Monaco has been hampered by groin problems, which restricted his pitch-time last season, but he showed in his first minutes of this campaign that he is ready to emerge in the manner of Mbappe.
Back home in Serie A, he has already shown immense promise, scoring three times in just nine outings with his formative club. And while it might seem that Mbappe now has a monopoly on 'youngest' records in European football, it is Pellegri who is the youngest to have scored a double in a major European league, doing so in a 3-2 loss to Lazio.
"We have the new Messi," Genoa owner Enrico Preziosi proclaimed in 2015. "He's called Pellegri."
Given that he stands at 6ft 2in and is built incredibly robustly for his age, it is perhaps unsurprising that he looks to Zlatan Ibrahimovic as his idol rather than the diminutive Argentine.
And just as Ibra flourished in France with Paris Saint-Germain, Pellegri believes that at Monaco the correct atmosphere is fostered to allow him to become a giant of the game.
"I was very quickly convinced by the project, which allows young players like me to develop and flourish in the future," he explained upon signing for the club. "I will be working hard to become an important player for the future of the club."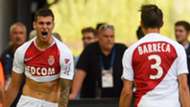 With Radamel Falcao tipped to move on in the not-too-distant future, Pellegri has timed his return to fitness immaculately, though he will face competition from fellow teenagers Willem Geubbels, Wilson Isidor and Moussa Sylla to become the club's next big thing.
Monaco's status as a springboard to greater things has been amply evident in recent years, with Mbappe just the figurehead of a procession that also includes the likes of Thomas Lemar, Benjamin Mendy and Bernardo Silva.
And it is one that the club are delighted with if it allows them to pick up players like Pellegri, who is surely destined to become a star of the future. Just 59 minutes of first-team football in France have been ample to prove that.