Juventus
The Czech Ibrahimovic: Meet new Juventus signing Patrik Schick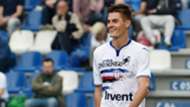 ---
PROFILE
---
Patrik Schick spends a significant chunk of his spare time playing FIFA 17 on the PS4. He never picks himself, though. Why?
"I'm too mediocre in the game!" the former Sampdoria striker joked earlier this year.
Schick arrives in Turin to join Juventus
Schick need not worry. By the time FIFA 18 comes out in September, his virtual persona will be significantly stronger - and playing for a much stronger club.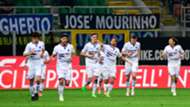 Schick's sensational first season in Serie A attracted the interest of several top sides over Europe. Scouts from Manchester United, Liverpool and Chelsea were all in attendance when Schick netted in Sampdoria's 2-1 win at Inter in April.
The Nerazzurri themselves had already made their interest known to Schick's employers by that stage and there was even talk of Roma's new sporting director Monchi making his presence felt by snapping up Serie A's most exciting young attacking talent.
However, the Giallorossi quickly realised that it was a lost cause, with Schick's move to Juve having already been agreed upon.
All that was missing was the confirmation, and that arrived on Thursday, with Juve agreeing to pay €30 million in total - even though the buy-out clause was €5m less - because Samp allowed them to spread the payments out over the next three years.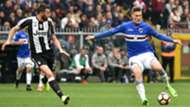 Juve vice-president Pavel Nedved couldn't be happier about his compatriot's arrival in Turin, believing him to be 'the new Zlatan Ibrahimovic'.
"Schick has a great future in front of him," he told Denik earlier this month. "Right now he doesn't have the muscles, but you can just imagine him in two or three years.
Ronaldo is not selfish, insists Benzema
"He reminds me of Zlatan Ibrahimovic because he was like that when he came to Juve. He didn't have the muscles either.
"Then Zlatan gained muscles and turned into a world-class striker. Schick is also this type of striker – great feet, tall and fast.
"If Patrik keeps improving himself he can turn into a world-class striker as well."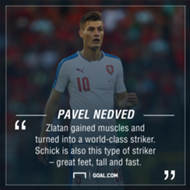 Schick is uncomfortable with the Ibra comparison, claiming "another like him doesn't exist", but his potential is undeniably enormous.
One only had to witness his sumptuous strike against Crotone on April 23 - which featured a breath-taking Dennis Bergkamp-esque flick past a bamboozled defender - to realise that he is a truly special talent.
Schick only netted 11 times in Serie A last season but that really doesn't tell the whole story, particularly as he was afforded only 14 starts.
In addition, he had a difficult acclimatisation period after his €4m move from Sparta Prague last summer, admitting that not only were the linguistic and cultural issues, he also initially struggled to come to terms with the pace of the Italian game - even in training.
Ibrahimovic released by Man Utd
December was a turning point, though, with Schick netting in three successive appearances as a subsitute that amounted to just 71 minutes of actual game time.
Indeed, in what was a great season for Serie A strikers, few were more clinical than Schick.
Edin Dzeko, Dries Mertens, Andrea Belotti, Gonzalo Higuain and Mauro Icardi all scored more goals but Schick had the superior shooting accuracy (60 per cent) and shot conversion rate (31.43%).
Of that illustrious list, Higuain should obviously be the most concerned by Schick's impressive stats, given he will be the Argentine's understudy next season.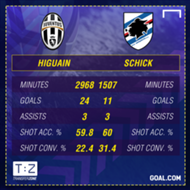 Schick is already faster and more skilful than the Argentine - whose lack of pace and poor dribbling were brutally exposed by Real Madrid in the Champions League final - and has the kind of efficiency that even the Czech Republic international's childhood idol, Cristiano Ronaldo, would be proud of.
Even more worrying for Higuain - and encouragingly for Juve - there seems little chance of a big-money transfer unsettling him.
When he made his debut for Czech Republic, against Malta last year, he admitted that his "legs were trembling" when he came on as a replacement for Tomas Rosicky - yet still managed to score one goal and create another, suggesting that he has the right mix of humility and confidence to thrive in Turin.
How much game time Schick would be afforded is open to debate but then again, as he shown so far in his fledgling Serie A career, he requires very little to make his presence felt.
If he continues at his current rate of progression, he will soon be good enough to start for Juventus - and to pick himself on FIFA 18.