Manchester United
The Contenders: Manchester United's UEFA Champions League highlights so far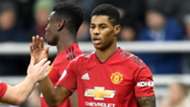 Manchester United, despite enduring a tough time in the Premier League under Jose Mourinho, have managed to qualify for the knockout stages of the UEFA Champions League.
And under caretaker manager Ole Gunnar Solskjaer, United have shown plenty of promise and their impending clash against PSG in the Round of 16 promises a lot. 
United started the group stages well, with a 3-0 win over Young Boys of Switzerland. But the positive mood was undone by a goalless draw at home to Valencia and a loss to Juventus, also at home.
But the Red Devils revived their season with a dramatic 2-1 win over Juventus in Turin before following it up with a 1-0 win over Young Boys to seal progression to the knockout stages.
Watch all their best plays so far here.