John Terry
Terry should stay at Chelsea - Ballack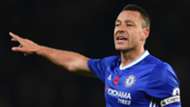 Michael Ballack says John Terry should remain at Chelsea, insisting he should stay at the highest level he can.
Ballack: Costa needs to show loyalty to Chelsea
The 36-year-old centre-back has played just five Premier League games this season and his contract expires at the end of the campaign, having signed a year extension upon Antonio Conte's arrival in the summer.
He was linked to a move to Bournemouth after the Blues recalled Nathan Ake from his loan at Eddie Howe's side, though Conte maintains he will not be leaving this month.
And Ballack believes staying put would be the right decision for Terry.
"I can't really recommend playing for another club because if you play for Chelsea for such a long time at that level – especially in the Champions League – and playing for the title, it is a little bit difficult to take a step down," he told talkSPORT.
"You should always try and stop at the highest level, where people will remember you really well, what you have achieved, what you have done – for his country as well – and I'm pretty sure he will find a good solution for himself.
"It's not always easy to find a good access as a player when you get older. It's never easy, because you love that sport and you want to do it as long as possible. But I think he will do the right step – I would not do it [join a lower club in England]."