Mario Balotelli
Super Mario's World: Balotelli slides back into the Champions League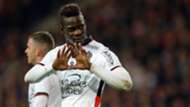 Should Mario Balotelli wish to stay at Nice next season, he will do so as a player in a Champions League team.
Lucien Favre's men secured their spot in Ligue 1's top three on Saturday thanks to a 3-1 victory over Nancy, although the Italy international was forced to watch from the stands due to a one-match suspension.
Once again the striker saw his side fall behind – the ninth time in 14 games the title hopefuls have conceded the opening goal – yet once more they rallied to victory.
It was Balotelli's replacement, Mickael Le Bihan, who got them promptly back on terms thanks to a smart finish from a Younes Belhanda pass.
The real hero, though, was Jean Michael Seri, who dominated the midfield and scored two second-half goals to secure the points. It was a win greeted with great pleasure by the club's top scorer, who posted a picture of his team-mates celebrating their achievement on his Instagram account. "Well done to the guys," he commented.
Had he been available, he would have had the chance to celebrate this achievement on the field himself, but Mario has been making sure that he stays well versed in this act.
True to form, though, he has practised it in a manner that might otherwise be frowned upon, as he skidded through an airport security check on his knees.
It was simply another act to highlight Balotelli's unique style, which has so often been flagged in the press before.
One of these occasions was when he revealed he had a pet pig, which was named Super. In a 'Flashback Thursday' post, he Instagrammed a picture of himself with the animal, which rested snugly beside him on the couch.
A post shared by Mario Balotelli (@mb459) on Apr 13, 2017 at 2:22pm PDT
As ever, he has been keeping a close eye on proceedings elsewhere in the world game, and in particular with his beloved AC Milan.
The Serie A giants were sold earlier this week, and Balotelli passed on a message to Adriano Galliani, the former sporting director.
"Thanks for the years we spent together, I see you as a friend rather than an employer. I thank you for always supporting me and I congratulate you for all these years of victory. Adriano has a unique strength. Forza Milan! And tomorrow forza Milan!" he commented.
Next week, meanwhile, Balotelli is back in action with Nice, who travel to Toulouse on Sunday as their unlikely quest to win Ligue 1 goes on.