Orlando Pirates
Stuart Baxter backs Orlando Pirates' Rhulani Mokwena to become Bafana Bafana head coach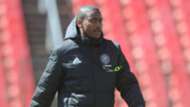 Orlando Pirates assistant coach Rhulani Mokwena has been backed to become South Africa head coach one day by Stuart Baxter.
Baxter, who is the current Bafana Bafana mentor, has invited Mokwena to help him prepare the national team for an upcoming four-nation tournament in Zambia.
South Africa, Angola, Zambia and Zimbabwe are expected to take part in the tournament which is scheduled to take place during the Fifa international break later this month.
"Rhulani is obviously one of the outstanding young coaches in the country. I would like to think he does have ambitions' and I would like to think that he can learn from the experience," Baxter told the media.
The British tactician, who recently announced the Bafana squad for the tournament, stated that other coaches will be invited to the national team camp.
"Yes' we want this to be a thing that we do more often. You can't do it at every camp with a different coach pitching up. Maybe some of the coaches it will be a recurring thing. Yes' you do want to find out how good the coach is," he continued. 
"If I'm being brutally honest' when I was in England the English media wanted an English national coach. Sven-Goran Eriksson was the coach and they loved him' but they would have preferred to have had an Englishman," Baxter added.
"And I'm sure that' without being nasty or racist' South Africa should be coached by a South African in a perfect world. And in lieu of there not being a suitable candidate at that moment' you can look elsewhere," the former Kaizer Chiefs coach explained.
"I'm very proud and honoured to be the SA national team coach. But I think that it's a part of my job and duty to empower those young South African coaches' the same as the young SA players," he said.
"And maybe one day Rhulani' or (Baxter's assistant) Thabo Senong' will be the senior national coach.We won't be asking Rhulani to put together the gameplan so we can follow it. But we will be asking for his input," the 64-year added.
"And I think' in the future' if he realises the talent he undoubtedly has' that it's not impossible for him to be the senior national coach," Baxter concluded.
Zambia's Chipolopolo will take on the Warriors of Zimbabwe on Thursday, 22 March at the Levy Mwanawasa Stadium in Ndola. Then Bafana will then take to the field to face Angola's Palancas Negras at the same venue.
The losers in the two matches will fight for bronze on Sunday, 25 March, also at Levy Mwanawasa Stadium. The final will be contested by the winners of the match day 1 – and these will face off immediately after the 3rd place play-off.