Liverpool v Roma
Strootman: Roma have special tactics to deal with Salah nightmare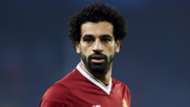 Kevin Strootman admits that Mohamed Salah has the potential to be a "nightmare" for Roma, but has warned Liverpool's star turn that he will face "special tactics" in their Champions League semi-final.
The last four of Europe's premier club competition has pitted a 41-goal sensation at Anfield against the side he left in the summer of 2017.
Roma are fully aware of the threat the newly-crowned PFA Player of the Year will present to their continental aspirations, with the first leg of an eagerly-anticipated encounter set to be staged on Merseyside on Tuesday.
Strootman will be among those charged with the task of trying to contain the in-form 25-year-old, with the Dutchman conceding that his former team-mate has taken an already impressive game to even greater heights in England.
He told The Independent: "I'm not surprised at how well he's doing but just at how easy he scores the goals and how confident he is in front of goal with the ball.
"Here he did a great job and did a lot of great assists and goals but he missed a lot of chances, especially one-on-one with the goalkeeper.
"I am surprised by how many goals he has scored so far but not how he plays. Here he was a nightmare for opponents and in England he is doing the same."
Salah is brimming with confidence at present and Strootman admits that Roma have paid particular attention to him when piecing together their plans for a heavyweight clash with Liverpool.
He added: "Now he has so much confidence and he just creates the chances himself and finds it easy in front of the goal. I think it is confidence which is the main difference.
"It did a lot when he played here but now you see if he has a chance and he misses it, the next time he knows he will score.
"He is doing amazing also with the national team, he did a great job, I think he is the king there now and they want to vote him for president and everything. I just hope in the two games against us he loses his confidence.
"We have special tactics [for Salah] but I'm not going to share it! Italian defence, that is what I'm hoping for."