Mesut Özil
'Stop talking, start supporting!' - Ozil tears into Arsenal critics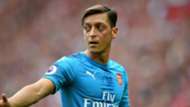 Mesut Ozil has hit back at Arsenal's critics, urging them to start supporting the team amid claims Arsene Wenger's side are already in crisis mode.
The Gunners have been denigrated for making only two signings in the summer transfer window after an underwhelming 2016-17 campaign.
Arsenal 15/2 to beat Bournemouth 2-1
Arsenal came close to losing last season's top goalscorer Alexis Sanchez to Manchester City on the final day of the window, but put an end to the deal after Thomas Lemar rejected them to stay at Monaco. Alexis is said to be furious with the club and a January move to the Etihad Stadium is a possibility .
Wenger's team have started the Premier League campaign with one win and two defeats - most recently a 4-0 trouncing at the hands of Liverpool.
The north London side have been targeted by fans and pundits for a lack of ambition, with the likes of Ozil and Sanchez being singled out by many.
Ozil's defensive contribution was questioned recently by ex-Gunners defender Martin Keown , while former striker Ian Wright blasting the club for how they handled the broken down Alexis deal .
But the Germany international, whose contract expires at the end of the season, has called for a more positive attitude, insisting the situation is not as bad as it seems.
The Arsenal midfielder, 28, wrote on a series of images Instagram: "During the last couple of days, my [Germany] team-mates have been asking me about how everything is at Arsenal at the moment.
"They claimed to have read about the current crisis throughout the media, as pundits and former players are commenting on a daily basis. They say that this could be the worst team in years, even decades.
"Four years ago I was transferred in a last-minute deal from Real Madrid to Arsenal - Arsene Wenger convinced me. He told me about the great history of this club, about its living legends such [as] Bergkamp, Vieira and Pires, who owe a large part of their success to the manager.
"Arsene told me how he would help me develop as a player and this is something every player wants to hear, as it is great encouragement.
"Personally, I've had to accept a lot of criticism during my time in London. 'Too expensive, too greedy, bad body language, and lacking fight' - this is what people have said about me...
"Although criticism is something that all football players have to deal with, I nevertheless expected legends to behave like legends - my advice to these former Gunners: Stop talking and start supporting!
"Even though I personally do not know how my career will continue after this year, I look forward to my fifth season with Arsenal... I am glad to be able to your shirt, Gooners.
"I've had so many great moments in the last four years and I appreciate what this club means to the people of London, the UK and all over the world."
Arsenal, who are 16th in the Premier League table with three games played, are back in action next Saturday with a home tie against Bournemouth.