Manchester City
'Stones would be a good Man City captain' - Laporte partnership impresses Dunne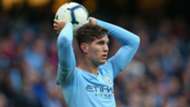 John Stones can be "a good captain for Manchester City", says Richard Dunne, while his partnership with Aymeric Laporte boasts the potential to be "the most successful in Premier League history".
Pep Guardiola has invested heavily in two proven centre-halves during his time at the Etihad Stadium, with options sought which fit his ball-playing philosophy.
He has had to work on moulding Stones, with the 24-year-old requiring improvements to the defensive duties which complement his ability in possession.
Stones is now a title winner and established England international, with it suggested that he will one day take the armband at City and follow in some illustrious footsteps.
Dunne, as a man who has filled that role in the past, speaking exclusively to 888sport said: "Whether John Stones becomes the captain in the long-term or not he's certainly becoming a leader in his own way.
"He had a tough first season when he signed because he made mistakes but he was always brave enough to stand up to it then come back out and try the same things.
"He's gradually getting the mistakes out of his game and is improving all of the time and he's someone who is happy to accept responsibility. He'd be a good captain for City."
Stones has taken in 15 appearances across all competitions this season, with many of those coming alongside January signing Laporte.
The Frenchman is another of those to have slotted seamlessly into a star-studded squad, with City now boasting a back line that can stand them in good stead for the foreseeable future.
Dunne added on the Stones-Laporte understanding at centre-half: "They are very different to when you go back over the years to the centre-back pairings that United had. [Nemanja] Vidic and [Jaap] Stam, Steve Bruce and [Gary] Pallister even.
"They were tough tacklers whereas the two City have – who are the only two centre-backs that Pep has bought – are completely within his profile of ball-playing defenders.
"They don't seem to be in positions to need last-ditch tackles. Instead they read the game really well and obviously with the team they have ahead of them - and Fernandinho in particular - they are not under so much pressure. This brings its own issue though because they need to concentrate all the time and remain switched on.
"The understanding that they've got could make this a long-standing partnership and certainly the most successful in Premier League history."
Stones and Laporte may get another opportunity to prove their worth on Sunday when City take in a derby date with old adversaries Manchester United at the Etihad.
Read the full 888sport interview with Richard Dunne, including his thoughts on how Manchester United must reinvent themselves from the boardroom down to compete with City.