Transfers
Steve Komphela's contract at Kaizer Chiefs 'a work in progress' - Bobby Motaung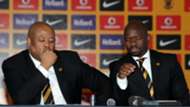 Kaizer Chiefs football manager Bobby Motaung has refused to commit whether or not Steve Komphela will be handed a new contract beyond June 2018. 
The 50-year-old joined Amakhosi on a three-year deal in 2015, and while he hasn't delivered trophies in two-and-a-half seasons, his bosses have continuously backed him. 
There hasn't been indications on whether or not his contract will be renewed, with Motaung saying it is a work in progress. 
"Steve's contract is a work in progress. There's a bright future for him ahead, but it depends obviously on the progress," Motaung told reporters. 
"We are still giving Steve support systems at the moment. We are still giving him tools to succeed. The only problem with Steve and his contract is that people look at trophies only. If you look at the plans that we had with Steve when he started, they have been implemented., in terms of development and bringing together the Chiefs philosophy. It's coming together," he said. 
According to Motaung, the management is happy with the work that Komphela has done for the club so far, especially blooding in players from the club's youth academy.
However, he's aware that every coach is judged by the number of trophies they've won.  
"Steve is helping bring back what we had; the Chiefs culture and philosophy. It's bearing fruit in a little way, but obviously it's a long-term vision for our [youth] academy and first team," explained the Amakhosi boss. 
"Unfortunately, in football people judge you by results which is a bit of a challenge at the moment, but for now, we are still supporting Steve and giving him all the tools he requires to achieve the goals. The contract issue is a work in progress," concluded Motaung. 
Komphela hasn't started pressing panic buttons, and he intends to soldier on until the last day of his contract. 
"Anxiety builds when you are not sure, and you are uncertain, you are scrambling all over the place, but that is not so with me. I am a man of process. I am working here and looking as far as going until the last day, contributing in a manner that when you leave or stay, you have done your job in a manner that is highly respectable," said Komphela on his future.