Raheem Sterling
'Sterling must improve end product to avoid Walcott trap' - Barnes warns Man City forward after Silva signing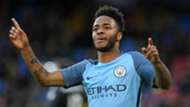 Raheem Sterling must offer greater "end product" in order to avoid becoming another Theo Walcott, says John Barnes.
The pacey forward is only 22 years of age, but has already made over 150 Premier League appearances and has 30 caps for England.
Jesus suffers fractured eye socket
He was able to contribute 10 goals to the City cause in 2016-17, along with seven assists in top-flight fixtures.
Sterling has, however, seen his final ball and finishing skills called into question on a regular basis and Barnes has warned that he needs to improve as he faces greater competition for club and country.
The former Liverpool and England midfielder said in the Daily Mirror: "Towards the end of the season Raheem was on the bench. Now they've signed Bernardo Silva so that's an interesting development to see how that goes.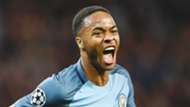 "Raheem has great potential. It's effortless when he dribbles past players. He has to improve on things. His end product is going to be important.
"If Raheem was with Ronnie Moran he would say to him: 'Yeah, you beat five players but then the ball goes over the bar.' That's instead of 'You beat five players how great is that?'
Walker perfect for new-look Man City
"You have to be harder with them for them to understand the things they need to improve on.
"I think I've seen a marked improvement in Raheem's end product since he's been with Pep. His finishing, his passing is better."
Barnes points to Arsenal forward Walcott as an example of how Sterling's career could stall if he fails to fully unlock his undoubted potential.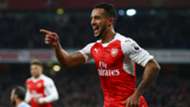 He added: "Look at Theo. He's a great player who has had a fantastic career. But in terms of what we expected from a 17-year-old to 27, maybe he hasn't developed as much as we'd hoped.
"Raheem is 22 but the difficulty is he's also playing with a lot of inexperienced players. Having players like Kenny Sansom or a Gary Lineker to help you along the way is important.
Wright: Give Arsenal Lewy for Alexis
"I could easily have thought 'I'm at Liverpool, I'm a superstar' but I had players I looked up to because of their seniority. At Watford, Wilf Rostron was there and he was kind of an Arsenal substitute.
"He played behind me but I didn't think 'I'm John Barnes'. Wilf said 'do this or that' and I did it. Now the emergence of the superstar youngster means they have to be careful."
Sterling's next opportunity to impress could come against Scotland on Saturday, with England taking in a crunch 2018 World Cup qualifier at Hampden Park.