Opinion
Specialist in failure? How Mourinho is acting more and more like Wenger every day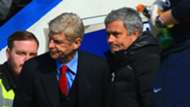 ---
COMMENT
---
"What did you think about the penalty incident?" "I didn't see it."
"What about the potential red-card offence committed by your centre-back in the first half?" "I didn't see it."
Why Pep congratulated Man City after defeat
Those were not the words of Arsene Wenger circa 2006, but Jose Mourinho on Sunday. Leighton Baines' late equaliser for Everton had hit the Manchester United manager so hard he suddenly found himself channelling his sworn enemy when asked to recap on the 1-1 draw in the post-match press conference.
But perhaps there is more to Mourinho's mimicking of the Arsenal manager than just the refusal to acknowledge unfavourable moments in the game. For just as Wenger spent years refusing to contemplate a switch away from the 4-4-2 formation to which he was wedded for so long, the Portuguese revealed that his decision to throw on accidental game-changer Marouane Fellaini came out of a deep-seated belief that the only way to withstand a direct approach from the opposition is to call upon the tallest player on your books.
"I thought you would know more about football than you do because the answer is obvious," he blasted when asked why the Belgian had replaced Henrikh Mkhitaryan for the final five minutes at Goodison Park. "Everton do not play beautiful football anymore. They are now direct. Their style is direct. Williams is direct. Everything is direct, and when they are losing they intensify their directness. When you have a player who is two metres tall you bring him on to deal with that."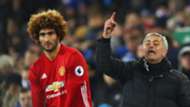 It was often the first reaction of Louis van Gaal to throw on Fellaini whenever he felt the slightest bit uncomfortable with an aerial challenge from the opposition, and Mourinho has fallen into the same trap somewhat since succeeding the Dutchman in the summer.
Yet during the course of the game it was United's width which had won them time and space, which had stretched Everton and forced gaps down the flanks for the Reds to exploit. It was the work of Anthony Martial and Mkhitaryan which had helped to take some of the pressure away from Zlatan Ibrahimovic after the Swede had spent much of the opening half struggling to hold the ball up and lift the burden from the remainder of his side. Only as United began to use their wide players more effectively had they got on top.
So why not seek to use the option which had served them best as a way of relieving pressure? Why resort to the base level of football demonstrated by Ronald Koeman's side in an attempt to fight fire with fire? Of course, Mourinho would have insisted it was a masterstroke of a move if Fellaini had not brought down Idrissa Gueye to hand Baines the chance to convert from 12 yards, but getting the right result doesn't make every decision made on the way the correct one.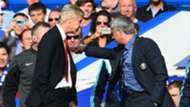 Wenger spent years saying that 4-4-2 was the way forward because it covered more area than any other formation. "I think 4-4-2 is simply the most rational formation in most cases," he claimed "In fact, it's the essence of reason. With a 4-4-2, 60% of your players are occupying 60% of the pitch. No other formation is as efficient in covering space." Now Mourinho insists the only way to withstand aerial pressure is the introduction of a Fellaini. Is this really the progressive way or is it a manager sticking to worn ideas about playing the percentages? Or is he just unthinkingly falling back on old-school tactics when there are other solutions to be found if only he will consider them?
Mourinho has spent much of his time since arriving at Old Trafford reminding people that it is only 18 months since he last won a Premier League title, making regular digs about Wenger's lack of success after 2004. But with every game he appears to be lending further weight to the argument that he, like Wenger, is a man of tired principles who needs to find a way to think more like a modern, progressive manager.