United States
Sources: Jonathan Gonzalez informs U.S. Soccer of decision to play for Mexico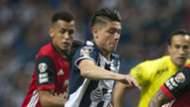 The process is underway for standout 18-year-old midfielder Jonathan Gonzalez to switch his international allegiance from the United States to Mexico.
Gonzalez has informed U.S. Soccer of his intention to file a change of association, U.S. Soccer sources told  Goal  on Monday. The notification is part of the process required by FIFA to switch association after representing another association at the youth level. Gonzalez was born in California and played for the U.S. at the U-17 and U-20 levels but looks set to don the green of El Tri as soon as possible.
The midfielder had said a number of times that despite interest from Mexico, he planned to represent the U.S. But in December sources told  Goal  that the United States' interim coaching staff didn't feel Gonzalez was ready to join the team for November's friendly against Portugal. His club, Monterrey, was playing a rescheduled game against Santos Laguna during the window, but Rayados may have been open to releasing Gonzalez with manager Antonio Mohamed playing an alternate lineup for the match. After that snub, the Mexican federation began to court Gonzalez, who is eligible thanks to his Mexican parents, and it appears the prospect of pushing for a spot at the 2018 World Cup has convinced Gonzalez the time is right to file a one-time switch with FIFA.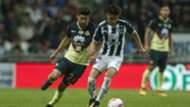 Gonzalez broke out in the Apertura with Monterrey, becoming a regular starter for Rayados manager Antonio Mohamed. Gonzalez started 20 matches between the regular season and the playoffs as Monterrey made it to the Liga MX final, only to lose to crosstown rival Tigres. The 18-year-old helped the club to the top position in the regular season and was named to the Best XI for the tournament by publications including the league's official magazine and popular newspaper  Record.
The one-time switch process is not instant, but the Mexican federation likely is hoping FIFA will approve the change in time for Gonzalez to take part in a Jan. 31 friendly against Bosnia and Herzegovina in San Antonio. With the contest falling outside the FIFA window, the squad will be made up entirely of players who play in Liga MX or MLS.