World Cup
Socceroos duo among fastest players at the World Cup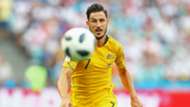 Australia may have left the World Cup without a win, but Socceroos wingers Matthew Leckie and Robbie Kruse depart as two of the fastest players in Russia.
Both recorded a top sprint speed of 33.1 km/h at some point across their three group games to place them inside the fastest 20 players at the 2018 World Cup. 
They are in fact tied for 13th alongside the likes of Marcus Rashford, Raheem Sterling and Juan Cuadrado.
Topping the list to date is none other than Cristiano Ronaldo, whose top speed of exactly 34 km/h is matched only by Ante Rubic from Croatia.
Rounding out the top five is Peruvian Luis Advincula, Colombian Santiago Arias and English pair Kyle Walker and Jesse Lingard.
The Socceroos finished bottom of Group C in Russia after drawing with Denmark and losing to France and Peru.
Kruse was cruelly singled out for his performances on the left wing but as these stats show, he clearly wasn't holding anything back.
Leckie on the other hand, impressed many in Russia and was recently named one of 11 breakout stars at the World Cup by ESPN.