Mesut Özil
'Singing the anthem stops players chewing gum' - Beckenbauer in veiled swipe at Ozil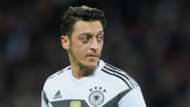 Germany great Franz Beckenbauer has weighed in on the debate over the national team's failure at the World Cup, suggesting that the squad needed to be hungrier in veiled swipes at Mesut Ozil.
Joachim Low's side crashed out in the group stages in Russia, having suffered shock defeats against Mexico and South Korea. 
Ozil was particularly targeted by the media as a reason for the failure, opening up a debate over racism towards the players of foreign-born heritage in the national team and leading him to quit international duty.
Beckenbauer, meanwhile, has claimed that there was a lack of desire from certain players. 
"From the outside, I also had the impression that the passion had been somewhat watered down in the four years since the World Cup victory," he told Bild. "Therefore, a rebuild with hungry, hot players is needed. 
"The singing of the national anthem also plays a role. Who sings before the game frees himself more than chewing gum."
While Ozil was not specifically named by the Bayern Munich legend, he has previously come in for criticism for not singing.
"While the anthem is being played, I pray, and I am sure that this will give us strength and confidence to drive the victory home," Ozil told Mission Titel in June.
"I think it's a pity if I or a teammate is convicted – because I'm sure people do not know why everyone does not sing along loudly."
He had previously raised the issues in his autobiography 'Die Magie des Spiels'.
"Just before kick-off, I pray. It's become a tradition of mine. It's always the same text. I pray in Turkish," he wrote. "I learnt these prayers as a child from my parents."
Beckenbauer's comments will, therefore, be viewed as another dig at Ozil, who quit the international game in the wake of the criticism he received in the fall out from Russia.
The Arsenal player turned out 92 times for Germany and scored 23 goals. In 2014, he helped them to World Cup glory in Brazil, a competition in which they beat Argentina 1-0 after extra-time in the final.
He is currently preparing to feature in Arsenal's opening Premier League fixture of the 2018-19 season, which comes on Sunday, August 12 against Manchester City.