Ligi kuu Bara
Simba new coach promises to give his all for the club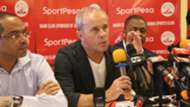 Simba new coach Pierre Lechantre understand the tough task ahead but he promised to give his 'ALL' for The Reds to win something this season.
Speaking after being unveiled in Dar es salaam, Lechantre told Goal that he understands what fans of any club demands for when a new coach takes over and that he will deliver the same to satisfy them. 
"I know what a new job entails especially when you sign for a big club like Simba.
"Fans want trophies and that is for sure. We must work hard to win trophies and that will be my key priority this season. We will strive to win trophies that will be on offer this season.
"I have been watching Simba, I know that we have good and committed players but we need to strengthen more and more. I don't want to talk too much, I came here to work," said the coach who led Cameroon to win AFCON in the year 2000.
Lechantre will start working for Simba next Tuesday.
Simba is in Bukoba for Ligi Kuu Bara game against Kagera Sugar, and they will need to win to strengthen their place at the top of the league table.