Premier League
Shearer jokes Mourinho can't match 'greatest' Sir Alex Ferguson in Grenfell charity match
Alan Shearer poked fun at Jose Mourinho by calling the Manchester United boss the "second best thing" to Sir Alex Ferguson in his pre-match team talk for the Grenfell charity match.
Shearer was managing a squad that included Mourinho in a televised UK friendly to raise funds following the Grenfell tower tragedy that killed at least 80 people.
Giving his team talk before the match, Shearer jokingly called out Mourinho, who played as goalkeeper for part of the game and during the penalty shootout.
The moment Jose Mourinho came on as goalkeeper! What a gentleman giving up his Saturday off to play at #Game4Grenfell   pic.twitter.com/GYhgEFQQW7

— Soccer AM (@SoccerAM) September 2, 2017
"It's a fantastic cause, I know you've all travelled from all over the country to be here," Shearer said to his team.
"Last night I was delighted when I heard that the greatest manager ever was coming to join us. I've got to apologise Sir Alex isn't here, but we've got the second best thing. We've got Mourinho."
Mourinho was unable to prevent Rio Ferdinand's team from beating Shearer's in a penalty shootout after a 2-2 result at Loftus Road.
The former Real Madrid and Chelsea coach did at least score his spot kick, but pop star Olly Murs scored the winning penalty in the 4-3 shootout win.
"I just told them I would play in goal because I wouldn't have to run so much!" Mourinho told Sky after the match. "We have to bring some fun, something different to these matches.
"Matches where, in this case, you are honouring the memories of many. And trying to give happiness to the ones who stayed.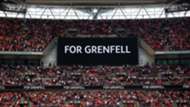 "So my decision was I don't want to be a manager because that's what I am every day, I want to play, I want to do something different.
"I wouldn't have expected it to go to penalties, and my record on penalties keeps going. I've lost nine and won only once!"
Mourinho even comically played up his notoriety for complaining about officiating, adding: "The yellow card was not the problem, the problem is the second goal being a clear offside."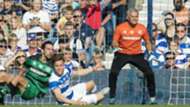 The Portuguese, 54, was in fine spirits in west London with United sitting top of the table after three Premier League matches having scored 12 goals and conceded none.
Wins over West Ham, Swansea City and Leicester City ensured that Paul Pogba and Co. head into the international break as the most impressive team in the UK so far in 2017-18.
Next weekend Man Utd will be back in action with a visit to Stoke City on Saturday followed by a Champions League group stage game against Basel in the midweek.
Mourinho added Romelu Lukaku, Nemanja Matic and Victor Lindelof to his United squad during the off season, with Zlatan Ibrahimovic also confirming his return later this season once he recovers from knee surgery.
If you live in the UK, you can donate money to the Grenfell charity by texting GRENFELL TO 70007 to give £3 to help those who have been affected by the devastating fire earlier this year.