Malaysia Cup
Sensational PKNS comeback, Perak just fall short of same feat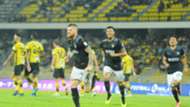 Five minutes was all it took for PKNS to recover from a 3-0 deficit to claw their way back into the match to eventually draw 3-3 in a pulsating match at Hang Jebat Stadium against Melaka United.
E. Elavrasan's side had already taken a very healthy lead through Lee Chang-hoon (7', 79') and Ifedayo Olusegun (71') but saw three points slipped away from them after PKNS produced a spirite comeback.
K. Rajagopal would not have been happy with the way his charges conceded three goals but would ultimately be left pleased with the fighting spirit displayed by his team, that was shorn of the service of Faris Ramli.
Romel Morales started the ball rolling with a thunderous effort in the 87th minute before Bruno Matos' free kick went straight into goal just two minutes later. Rafael Ramazotti reacted the quickest after Morales let fly another shot, to guide the ball into the net past a helpless Khairul Fahmi Che Mat for The Red Ants to keep their place at the top of Group B.
It was an almost similar situation in Ipoh except that instead of the home side leading, it was the away side. Terengganu FC claimed first spot in Group A for themselves after a 3-4 win over Perak, an easy win that was almost made difficult at the end.
Incredibly, Irfan Bakti's men got themselves into a 4-goal lead through Ashari Samsudin (8'), Lee Tuck (45'), Wan Amirzafran (58') and Faiz Nasir (82') as Perak continued to show their struggles in the Malaysia Cup.
Yet, there may still be life in The Bos Gaurus as they staged their mini comeback that would ultimately fail at the final hurdle. Goals from Wander Luiz (86', 90') and Leandro dos Santos (90+5') made the scoreline much more respectable for Mehmet Durakovic's side but what happened prior to that is of a much bigger concern to the Australian.
Over in Group D, Pahang picked up all three points on the road after a convincing 0-2 win over Selangor at Shah Alam Stadium. Muslim Ahmad (30') and Norshahrul Idlan Talaha (54') got the goals that moved The Elephants to the top of the group.
In the group's other match, Sabah used their home advantage to good effect as they edged out PKNP FC 1-0. The Rhinos needed a late goal from Rahman Shah, two minutes into added time to give them their first win of the competition.