South Africa U20
Senong: Amajita are still very strong without Mahlambi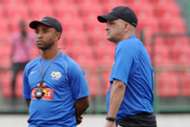 Bidvest Wits forward Phakamani Mahlambi is arguably the golden boy of South African football.
But that hasn't stopped Amajita coach Thabo Senong from hitting out at the player.
This comes after reports had surfaced that Wits head coach Gavin Hunt was not willing to release the talented playmaker.
Last week, Senong called up a star-studded squad that will do duty at the upcoming Under-20 African Cup of Nations (Afcon) finals to be held in Zambia next month.
The chosen players will report for an early two-week training camp. However, the Wits attacker will not be attending the camp.
In a recent interview, the Bafana Bafana and SA Under-23 assistant coach did not want to dwell on potential absentees.
The Under-20 gaffer did, however, share his thoughts on Amajita's success without the 19-year old.
"I will never talk about individuals. Amajita have 31 players and they are all talented," Senong told Power FM.
"This individual was never part of the setup anyway. Last year, Amajita played 12 games and only lost one," he added.
The coach continued to deflect interest away from the matter, rather he chose to elaborate on the strength of the squad and the importance of team spirit.
"Amajita has managed to qualify without this individual, so at the end, team sport is more than just one player," Senong concluded.
The Amajita squad will report to the training camp on Thursday as preparations begin for the under-20 Afcon finals.
The tournament will be held from the 28 February to 12 March. Amajita find themselves in a difficult group along with Senegal, Sudan and Cameroon.
Some notable inclusions in the squad that will be attending the camp are Sporting Lisbon's Liam Jordan and reported Sporting Braga target Luther Singh.