Super League
Second chance for under-performing imports in Malaysian teams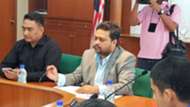 ---
BY         NIK AFIQ        Follow on Twitter
---
Football Malaysia Limited and Liability Partnership (FMLLP) has announced that foreign players can now move to other teams in Malaysia during the second transfer window.
The previous rulings stated that foreign players were not allowed to be transferred out to other teams in Malaysia during the second transfer window, which led to teams terminating the players' contract if they were not happy with the players.
However, with this new rule, teams can now exchange or transfer the player with other teams in order to lessen the number of players leaving Malaysia after their contract being terminated halfway into the season.
According to their statement in FMLLP's official facebook page: "FMLLP also hopes that this will allow teams more options and encourage teams to negotiate with each other with regards to transfers thus allowing them to benefit from this initiative"
"It is our hope that teams use this opportunity for strategic planning and see it as an opportunity to transfer players professionally instead of terminate them if possible."
FMLLP also added that there are too many cases of unlawful terminations happened in the country being referred to FIFA and the country are infamous for it for a while now.
This change also potentially allow teams with bigger budget to keep an eye on players that have performed well in the first part of the season and make their move to secure their signature when the transfer window opens.