World Cup
Science of football: Preparing for a World Cup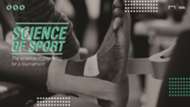 At every level of the game teams are faced with the special challenge of tournament football.
This is where the entire competition is played within a short period that ranges from a single day to a few weeks.
Tournaments tend to include long continuous periods away from home.  This means that preparation and science for these events differs from that which is used for leagues or longer competitions.
In the spirit of the World Cup and the upcoming pre-season tournaments, tournament preparation is the focus for this month's column.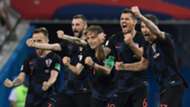 Tournament objectives
One of the first things for the training team to consider when developing the programme is the aim and format of the tournament.
Generally when tournaments are mentioned, it is the World Cup and AFCON that springs to mind. In this case the goal will be to win the tournament.
However, there are also other types of tournaments such as those held in pre-season where the goal is mentally and physically preparing players for the season ahead, while experimenting with things like team dynamics and chemistry.
For a World Cup, the coach will choose to ensure that for almost every match, the best players, and the most in-form players are chosen.Only injuries and suspensions can hinder this. 
The exception would be in the group stages when a team has already qualified for the next round and has one more game to play. In this case a coach might give some of the fringe players match time, which can help them should they be called upon in any future matches.
While all the attention is on the matches, technical and medical teams are required to ensure their players are undergoing good workloads.
The balancing of work and rest is essential to prevent injuries, fatigue and is also part of the planning cycle to get the team to peak for the latter stages of the tournament.
However, it is important not to focus so much on peaking for and having no injuries in the final, that players are not in a good enough condition for the early stages of the tournament and are likely to exit the tournament quickly.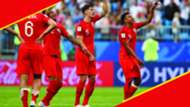 Individual vs team preparation 
With a tournament squad, individual loading becomes key.
There are some players who play every minute of every game, others who might get some short cameos and those who don't get any match time.
Regardless of the role within the team, it is important that for every game, every player is match-fit and mentally ready to enter the field, just in case they are needed.
This means that the players not getting enough or any match time must undergo additional loading in training to allow for training adaptations to occur or to prevent detraining.
While the physical side is important, the mental side must also be considered.
A tournament winning squad needs harmony and unity.
It is important that every person, even the third goal-keeper, who most likely goes into the tournament, not expecting any game time, feels like they are part of the story- That when the team win, they are winning.
Those players play a key role in preparation during the tournament. Teams are not going to be playing friendly matches and a lot of the tactical preparation and match sharpness will be based on the quality of the 'opposition' when they play games in training.
Mental preparation includes ensuring the players feel at home in their base camp and that not every second of the day is focused on the tournament.
Sometimes fans look at pictures of players in camp laughing a day after a defeat and start criticising them for not being serious or for being distracted from the tournament.
The key, however, is ensuring that when players need to be focused they are, and when they need to mentally switch off they do that as well.
This helps control stress and anxiety levels and plays an important part of achieving success. Many teams allow their players time with their families which can increase the unity within the squad and it also gives players access to their extended support structure.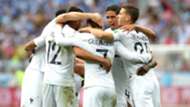 Tournaments do not exist in isolation. 
The players playing these tournaments have previously been part of other competitions. This too affects the players' conditioning going into a cup event.
At this year's World Cup many teams had a month's preparation as they headed into the tournament.
Other teams, however, had their ideal plans compromised in some way by players being injured or experiencing slight niggles. This year Ramadan fasting began a month ahead of the tournament and concluded in the first three days of the World Cup.
Other factors for consideration includes players who might not have had successful seasons at club level feeling more anxious or lacking confidence, and for those countries where not all players are full-time professionals, there is the challenge of how the time away from their 'real' jobs affect them and how those jobs enable best preparation.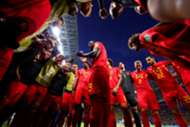 Tournament Format
The duration and format of the tournament also will impact the preparation.
A round-robin tournament or the stage of the tournament allows some leeway and room for error which is not available for knock-out tournaments/stages.
The duration of matches also has an impact on preparation. The format, particularly in the case of knock-out tournaments and depending on the rules, often requires preparation for matches that last 120 minutes. This key in preparing players physically while mentally players need to be prepared for the dreaded penalty shoot-out.
International tournaments tend to follow a good standard in terms of recovery time between matches, enabling for travel and high-quality team bases.
But not all tournaments allow for this.
Often tournaments might have teams playing every day, or even twice a day. 
In such circumstances, coaches usually do not have all the expertise and resources on their side. Players are expected to just make do, with the hope that the same challenges they face, will be faced by their competitors as well.
This can be managed through:
Squad rotations and managing playing time become key, so ideally build a strong squad not just the starting 11.
The score in the game can help coaches decide when to rest their key players so they are in good condition for the next challenge.
Good warm-ups and cool downs are cheap but effective strategies.
Where possible, dietary interventions can help (not just the what but also when they eat).
And create a good team spirit, the mind can be a powerful tool, and sometimes even when players are fatigued the mind can keep them going.  
Scientific methods for tournaments cannot be used in isolation. While they have their own purpose, sport scientists and trainers will look to train players based on when in the season a tournament is held as well. Therefore, players programmes are developed on multiple levels in order to prevent injuries and bring out the best in a player as and when needed while still looking after their well-being.