Pro League
Saudi Pro League: Title race heats up as Al Hilal lose and Al Ahli win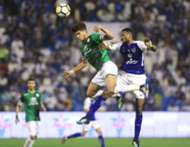 Al Hilal managed to lose their 4-point gap at the top of the Saudi Pro League when they lost to Al Ettifaq in matchweek 24 to stay on 49 points, and their disappointment was followed up by Al Ahli's win against Al Qadisiyah to move onto 48 points.
Al Ettifaq won 2-1 in the match against Al Hilal, with goals from Mohammed Al Kuwaykibi in the 58th minute and Filip Kiss in the 86th minute enough to give them a comfortable lead. Al Hilal legend and late substitute Mohammed Al Shalhoub scored a consolation in the 95th minute.
Meanwhile, Al Ahli were up against an Al Qadisiyah side which looked to take control of the ball and threaten the opposition goal on more than one occasion. However, Motaz Hawsawi's header was the only ball that went into the net across the 90 minutes and Al Ahli narrowly won 1-0.
With just three games to go, the title race heats up as Al Hilal and Al Ahli meet on the second last matchweek of the season.