MLS
San Jose Earthquakes re-sign Tommy Thompson and Marvell Wynne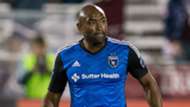 The San Jose Earthquakes have re-signed defender Marvell Wynne and midfielder Tommy Thompson, the team announced Tuesday.
Both players return on multi-year deals, though financial details were not disclosed.
Sources: Dallas completes $2 million Cristian Colman move
Wynne has spent the past two seasons with the Earthquakes after being selected in the 2014 MLS re-entry draft. He's started 63 of the team's 68 games over that span and has led the team in minutes played during that time. He also finished 13th in MLS in tackles in 2016.
"Re-signing Marvell was always a priority for us," Earthquakes technical director Chris Leitch said in a press release. "His speed, aggressiveness and ability to play multiple positions across the back line undoubtedly makes us a stronger and deeper club."
Thompson was the Earthquakes first homegrown player signing following his one season at Indiana University. However, he has struggled to make a breakthrough with the first team over his three years with San Jose and has spent time on loan with the Sacramento Republic of the USL.
However, at just 21 years of age, Thompson is still young and the Earthquakes believe he has the potential to be an important player for the side in the next few years.
"Tommy has shown a lot of promise in his first few seasons with the club and is a big part of the young core group of players we want to build around moving forward," Leitch said. "We felt it was important to restructure his contract to ensure he remains in a Quakes kit for years to come."
Earthquakes head coach Dominic Kinnear added: "We're very happy we reached an agreement to keep Tommy with the club. We've seen a lot of improvement over the years and know he can become an even better player in the coming seasons."