Mohamed Salah
Salah almost a complete player who makes time stand still, says Liverpool legend Molby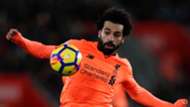 Mohamed Salah is "becoming the complete footballer", says Jan Molby, with the Liverpool forward able to make time stand still.
The Egypt international returned to English football in the summer of 2017 with questions still being asked of him as a Premier League performer following a forgettable stint at Chelsea.
He has, however, been a revelation on Merseyside, with an immediate return offered on a £36.9 million investment to become the first man to hit 30 goals for the Reds since Luis Suarez.
Nothing seems beyond the 25-year-old at present, with his latest outing seeing him produce a classy finish in a 5-0 Champions League demolition of Porto to further underline his growing confidence and standing among the global elite.
Reds legend Molby is among those prepared to admit that they have been proved wrong, with the iconic Dane telling the Liverpool Echo of Salah's exploits: "There's nothing quite like watching a player who has that coolness about him, which a lot of people – including myself – doubted he had when he first arrived.
"He has kept on improving, and if you add his latest strike to his effort against Tottenham the other week, Salah is very close to becoming the complete footballer.
"I've always been a fan of players with composure, of which Salah has in abundance.
"That little keepy-uppy and calm finish [against Porto] where he knows the shot can't be saved, it was almost like time stood still.
"Sometimes it can be like that as a footballer. He would have felt in complete control of that situation, and was doing things at his own pace.
"A lot of goals Salah has scored are those you'd expect from a regular goalscorer, but he's also capable of netting ones like that on Wednesday night."
Salah now has 30 goals to his name in just 36 appearances this season, with seven of those having helped to keep Liverpool in the hunt for Champions League glory.
He is also pushing Tottenham's prolific frontman Harry Kane close in the battle for the Premier League Golden Boot, with 22 efforts netted in the English top-flight to date.