African All Stars
Sadio Mane to start against CSKA Moscow, says Liverpool's Klopp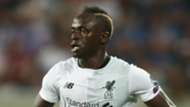 Liverpool manager Jurgen Klopp has said Sadio Mane will start the club's Uefa Champions League game against CSKA Moscow at the VEB Arena.
The 25-year-old played for 83 minutes in the 2-2 draw against Sevilla in the first game of the group stages of Europe's elite club competition.
And the German tactician has announced that the winger will get a place in the starting lineup as the Kop go in search of their first win in the group stages of Europe's elite club competition against the Russian top flight side.
"He [Mane]  is back and available again – and if he is available it makes sense to bring him from the beginning, but we will see," Klopp told club website.
"It's difficult to make the line-up already; we did some analysis of Moscow yesterday morning. That gives you a little insight [into our schedule] – you win at Leicester, have a team meeting when you come in [on Sunday], then you have the analysis meeting about Moscow and then an analysis meeting with the team about Leicester again. Then you go home and you watch Moscow and Newcastle because we play there a few days later!
"The next meeting with the players is tomorrow – and I have to go immediately to the press conference which is in a different hotel to our one, but then we will make the line-up.
"Sadio is back and it's really good. He made all the normal training sessions. When you are injured or suspended you have to do more than the rest of the squad because you cannot play, so he should be OK."