Cristiano Ronaldo
Ronaldo's arrival in Italy may not be all that positive for Serie A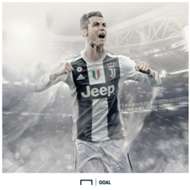 As rumours begin to intensify surrounding Cristiano Ronaldo's impending shock switch to Juventus which does have a concrete chance of materialising, many in the Serie A camp will no doubt feel his presence will rejuvenate a league that has gone stale.
Granted, Italy's top-flight has not seen a superstar of such calibre grace the peninsular since the heydays of the 90s thus the uncontained euphoria. Moreover from an economic perspective, it will be a boost to the league as television ratings will definitely go up allowing for more profit. Indeed the Portuguese is a footballing and commercial asset but at 33 he is the short-term to reviving the league.
Significantly, this is where Serie A's officials must not allow the five time Ballon d'Or winner to blur the lines of reality. They must not fall into the trap believing he is the solution to solving all of the league's woes or Serie A could find itself stagnating after it had made small steps to recovery.
Italy has long had a penchant for older players but when the league began to decline more opportunities began to open up for younger talents. Significantly this was the most crucial and positive aspect to come out from Serie A's decline. As of now the country is blessed with a whole host of young talents. Alessio Romagnoli, Daniele Rugani, Manuel Locatelli and Mattia Caldara are just some of the starlets that represent the future of the Azzurri and the league.
In fact the country must continue towards the path of blooding youngsters in order for the league to be fully sustainable. Italians love stop-gap solutions and not long-term solutions. As an avid follower of the league, there is truly a palpable fear many in the boardroom will probably devote their energies into milking Ronaldo for all his worth, instead of focusing on the more crucial footballing elements including stamping out endemic corruption.
Italy must look towards building a solid nursery for budding talents just as Spain and Germany had done. This is the main upward trajectory that they must fiercely adhere to. Those who run the league must quickly realise that in the end the principal beneficiaries of Ronaldo's presence will ultimately be Juventus only.
With Ronaldo's addition to the Bianconeri squad, it could also erode the competitiveness of the league. Many now will believe that the Turin giants have practically sealed the Scudetto given the star-studded nature of their team and the budget they possess. Notably, the only positive will be that the Portuguese can finally deliver the Holy Grail which is the Champions League for Massimiliano Allegri's men. Indeed, if one were to view the larger picture of Ronaldo's arrival in Serie A, it may not be all that glamorous.