Cristiano Ronaldo
Ronaldo scores more goals in games than I do in training - Wagner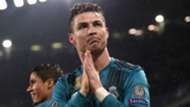 Bayern Munich striker Sandro Wagner is looking forward to the challenge of playing against Cristiano Ronaldo in the Champions League semi-finals.
Ronaldo's 15th goal in this season's Champions League secured a dramatic, and controversial, quarter-final victory over Juventus and Madrid will now face Bayern in the last four.
He has struck 41 times already this season and has scored well in excess of 400 goals during his Madrid career, with Wagner a big admirer of the Portugal international.
Wagner said: "He is great. I like people such as him. I know that a lot of people criticise him, but I like him. It would be boring if we were all the same,
"He scores more goals in games than I do in training. I will be very happy to meet him."
However, while Wagner may be a huge fan of Ronaldo, he does not fear the prospect of playing against the Champions League's all-time top scorer.
"Our defence is brutally strong, we have the best defence in Europe, so we do not need to hide," he added.
Wagner is new to playing in the latter stages of the Champions League having only appeared in the competition a handful of times in his career for Werder Bremen and he is relishing the opportunity to play against top-level opposition.
He said: "I think Real Madrid are the toughest of the three possible opponents. But our players are not blind, so we're very positive and confident for the games, so we're just in a good mood and looking forward to the two matches."
Bayern have announced that former player and current Frankfurt manager Niko Kovac will replace interim coach Jupp Heynckes for next season and Wagner appears happy with the appointment.
"Of course, he is a good coach," said Wagner. "Frankfurt have a great team. I also have a very good relationship with Bruno Hübner (Frankfurt sporting director), who always praises him.
"He is a good coach. Otherwise, Bayern would not take him. But, as I said, in the summer we can talk a lot about Niko Kovac, but for now Heynckes is our coach."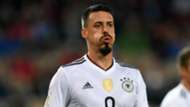 The former Hoffenheim forward has been a sensation since rejoining Bayern in January, scoring seven goals in 10 league games, including a brace in Saturday's 5-1 win over Borussia Monchengladbach.
He has hit form at the perfect time as he looks to claim the number 9 shirt ahead of Timo Werner and Mario Gomez for Germany's attempt to retain the World Cup in Russia.
Wagner has scored five goals in eight appearances for the national team and he is confident of getting a call-up for the World Cup.
He said: "You do not ask Müller or Hummels every week whether they are going to the World Cup. That's exactly how I see it with me.
"I have done my best in the last few weeks, months and years. I deserve it and I will be part of the squad, I'm sure."