Roma
Roma title challenge almost over after Napoli made us suffer, says Spalletti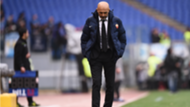 Roma coach Luciano Spalletti admits it seems impossible for his side to beat Juventus to the Serie A title this season after they suffered a 2-1 defeat to Napoli.
Allegri refuses to rule out big summer move
Kevin Strootman's 89th minute goal for Roma failed to spark a late comeback after Dries Mertens' double.
The win sees Roma stuck seven points behind Juve, who take on Udinese on Sunday, while Napoli cut the gap to second place down to just two points.
Spalletti ackowledged his side were punished for their poor start to the game, leaving their title challenge all but over.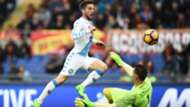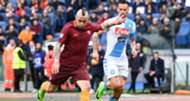 "We must be realistic," he told Sky Sport Italia. "It was difficult before, now it's almost impossible."
He added to Mediaset: "They were much better in the first half at moving the ball quickly, whereas we hardly ever managed to raise the tempo or get into the right positions. They also made us really suffer to win back the ball.
"You need the sharpness to make those two or three passes in a row to open up spaces and Napoli did it far better.
"We improved in the second half and it was a whole other game, although we were rather unlucky with the woodwork.
"I don't think it's right to talk about fatigue, as that makes the situation worse. You can talk about it, but don't involve me, especially as towards the end the team had a completely different attitude, so they can't have been tired.
Icardi: Inter don't need Simeone
"We could not have played like that in the final minutes if we were fatigued. On Wednesday we didn't play that well, but we weren't dominated by Lazio at all. We knew how they'd play and did not adjust accordingly.
"When we made it more one-against-one in the second half, we saw a team with a more spirit and fluidity. I decided to give more space to Stephan El Shaarawy and Diego Perotti, but the whole team didn't step up at the right times, so they weren't given the chance to make more of an impact.
"If you find the right through ball, it can make all the difference. Unfortunately, we tended to play it badly and were not calm, courageous or precise enough."