Transfers
Roma midfielder Strootman denies being close to Man Utd deal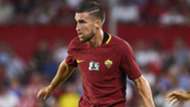 Roma midfielder Kevin Strootman has denied he was ever close to joining Manchester United, despite rumours having linked him strongly to the club in the past.
The Netherlands international joined Roma from PSV Eindhoven in the summer 2013 for a reported €16 million. After a bright start to his Roma career, he had to overcome multiple serious injuries to once more become a key member of their squad over the last two seasons. 
However, in and around the time Strootman joined the Italian club, reports linked him heavily with a move to Manchester United.
Now, years later, Strootman has opened up about those rumours declaring he was never close to any deal for him to join the Red Devils.
"I never talked with anybody," Strootman told The Independent. "No, no. There was a lot of speculation but to be honest I only spoke with Roma.
"There were some clubs who showed interest but it's always like that. They always say they are interested but at the end they don't do anything so it's nothing and I'm really happy that I chose Rome."
And Strootman says that has not changed since arriving in Rome, adding that while some publications may have reported he was close to a deal, that was never the case.
"Even during my time with Rome before my injury they talked about other clubs but I never talked about leaving Rome," he said. "They said some club was really close to signing me and they want me really bad but I'm good here."
Strootman and Roma are in England to face Liverpool in the first leg of their Champions League semi-final tie on Tuesday at Anfield.