MacDonald Mariga
REVEALED: How McDonald Mariga helped shape Victor Wanyama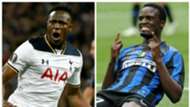 McDonald Mariga has revealed how he helped influence Victor Wanyama's move to Europe.
The two grew up in the Muthurwa neighbourhood of Nairobi, the Kenyan capital, the middle two of four footballing brothers and the sons of a footballing father. Now, the 30-year-old Mariga is rock-bottom of Italy's Serie B with Latina, who have not paid him since November, while Wanyama is second in the Premier League and preparing for an FA Cup semi-final against Chelsea.
However, Wanyama owes it all to his big brother. It was Mariga who brought Wanyama to Europe as a 14-year-old; Mariga, who orchestrated his first big move and Mariga, who advised him to go to British football with Celtic in 2011. He has been the biggest influence on Wanyama's career.
EXTRA TIME: Kenyan musician composes song in praise of Wanyama
"Our family is so close. My mum and dad made us close," Mariga told ESPN FC website. "Growing up, they said, 'You have to help your brothers'. We would play football together and maybe at school you would finish first but you'd have to wait for Victor to come home together -- things like that.
"Sometimes you were playing and you would see someone kick your brother, you feel bad and go to stop it. Even now, we speak every night on Skype. Maybe we don't talk on the day of the game so he can concentrate, but we send messages like, 'Hey, have a good game'. But after the games, we always talk. We discuss how it was -- everything. When I don't have a game, I always watch Victor's."
Even when Mariga got his first professional contract in Kenya, Wanyama -- four years his junior -- would go along to training and Mariga recognised his talent from a young age. "Victor could have been the best player of us [brothers] -- I thought that when he was small. When you're little, you don't have a mind for tactics. You just play for play. You want to dribble past everyone. He was like that."
Mariga's big break came at 17, when he joined Swedish third division club Enkopings. After a season, he was loaned to Helsingborgs in the first division and he soon signed permanently. Although his success on the pitch was immediate, he was homesick and always cold, so he devised a plan.
"I went to the chairman of the club," he said. "He was friend, he liked me so much -- and I said, 'My brother plays in Kenya, can he come here and train with the second team?' He said it's no problem.
Victor Wanyama delighted after making Spurs comeback
"I wanted Victor to stay with me because I was alone. He helped me a lot. I had my brother and we were going to training together and coming back home together and talking. Before it was very difficult for me because I was alone and it was very cold in Sweden. But with Victor being there, I was very happy. Everything was going smoothly. He did well and everything was just simple and easy."