Primera División
REVEALED: FIFA 17 Ultimate Team Winter Upgrade ratings refresh for La Liga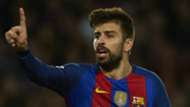 EA Sports have announced their Winter Ratings Refresh for selected players in the Spanish top flight on FIFA 17.
Hundreds of players will have their ratings permanently updated in FIFA's Ultimate Team as part of the Ratings Refresh campaign, with Barcelona defender Gerard Pique leading the way in La Liga.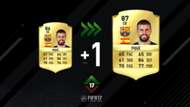 The World Cup winner is enjoying another productive season at the heart of Barca's back four.
As a result, his rating his risen from 86 to 87, while Camp Nou colleague Sergi Roberto is also nudged up one mark from 79 to 80.
Elsewhere, Real Madrid full-back Dani Carvajal is also on the rise (83 to 84), along with Atletico Madrid midfielder Yannick Carrasco (82 to 84) and Sevilla's Steven N'Zonzi (82 to 83).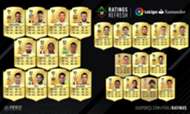 Among those heading in the opposite direction are Barcelona centre-half Javier Mascherano, who slips from 84 to 83, and Real Madrid defender Danilo, who drops down from 79 to 78.
"The updated ratings will apply to new base items which are found in packs, however some existing In-Form versions of select players will be automatically updated," a statement on EA's website reads.
FULL LIST
UPGRADES
Gerónimo Rulli - Real Sociedad - GK: 82 → 83
Sergio Roberto Carnicer - FC Barcelona - RB: 79 → 80
Roberto Soriano - Villarreal CF - LM: 79 → 80
Nicola Sansone - Villarreal CF - LW: 78 → 79
Pablo Sarabia García - Sevilla FC - RM: 78 → 79
José Ignacio Fernández Iglesias - Real Madrid - CB: 78 → 80
Emre Çolak - RC Deportivo - CAM: 77 → 79
Daniel Garcia Carrillo - SD Eibar - CDM: 77 → 79
Sergio Escudero Palomo - Sevilla FC - LB: 77 → 79
Nicolás Pareja - Sevilla FC - CB: 77 → 79
Gabriel Appelt Pires - CD Leganés - CAM: 76 → 77
Victor Sánchez Mata - RCD Espanyol - RB: 76 → 77
Florian Lejeune - SD Eibar - CB: 76 → 78
Michel Macedo Rocha Machado - UD Las Palmas - RB: 75 → 76
Gerard Moreno Balagueró - RCD Espanyol - ST: 75 → 77
Francisco Rico Castro - SD Eibar - CDM: 75 → 77
Takashi Inui - SD Eibar - LM: 75 → 77
Theo Bongonda - RC Celta de Vigo - LW: 75 → 78
Manuel Alejandro García Sánchez - Deportivo Alavés - CDM: 74 → 75
Julián Omar Ramos Suárez - CD Leganés - RM: 74 → 75
Munir El Haddadi - Valencia CF - ST: 74 → 75
Rafael Santos Borré - Villarreal CF - ST: 74 → 75
Asier Riesgo Unamuno - SD Eibar - GK: 74 → 75
David García Zubiria - CA Osasuna - CB: 74 → 75
Jaume Domenech Sánchez - Valencia CF - GK: 74 → 75
Clément Lenglet - Sevilla FC - CB: 74 → 75
Raúl Rodríguez Navas - Real Sociedad - CB: 74 → 76
Sandro Ramírez Castillo - Málaga CF - ST: 74 → 77
David García Santana - UD Las Palmas - CB: 74 → 77
Antonio Manuel Luna Rodriguez - SD Eibar - LB: 73 → 75
Marcos Llorente Moreno - Deportivo Alavés - CM: 73 → 76
Carlos Martínez Díaz - Real Sociedad - RB: 72 → 75
Edgar Antonio Méndez Ortega - Deportivo Alavés - LM: 71 → 75
Jérémie Boga - Granada CF - RM: 69 → 72
Mikel Villanueva - Málaga CF - CB: 69 → 75
Carlos Soler Barragán - Valencia CF - CM: 67 → 74
Theo Hernández - Deportivo Alavés - LB: 66 → 74
DOWNGRADES
Javier Mascherano - FC Barcelona - CB: 84 ← 83
André Filipe Tavares Gomes - FC Barcelona - CM: 83 ← 82
Fábio Alexandre Silva Coentrão - Real Madrid - LB: 77 ← 74
Aymen Abdennour - Valencia CF - CB: 78 ← 76
Danilo Luiz da Silva - Real Madrid - RB: 79 ← 78
Alen Halilović - UD Las Palmas - CAM: 77 ← 75
Martín Montoya Torralbo - Valencia CF - RB: 77 ← 75
Imanol Agirretxe Arruti - Real Sociedad - ST: 77 ← 75
Iván Cuéllar Sacristán - Real Sporting de Gijón - GK: 75 ← 72
Guilherme Madalena Siqueira - Valencia CF - LB: 76 ← 74
Alberto Lora Ramos - Real Sporting de Gijón - RB: 73 ← 69
Markel Bergara Larrañaga - Real Sociedad - CM: 73 ← 70
Alberto Bueno Calvo - CD Leganés - CAM: 73 ← 70
Zdravko Kuzmanović - Málaga CF - CM: 74 ← 72
Roberto Román Triguero - CD Leganés - RB: 74 ← 72
David Simón Rodríguez Santana - UD Las Palmas - RB: 74 ← 72