Transfers
Premier League moves to close transfer window before season - reports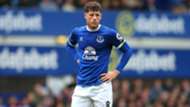 The Premier League is moving to adjust the summer transfer window so the deadline comes before the start of the season, according to multiple outlets.
The Telegraph and The Times have reported that Premier League teams are set to decide on the proposal at a shareholders' meeting on September 7, with the vast majority of clubs expected to vote in favour of the move.
Should the vote go as planned, the change would be put in effect ahead of the 2018-19 Premier League campaign. The current transfer window is scheduled to close August 31, nearly three weeks after the Premier League season opened with Arsenal's victory against Leicester City on Friday.
Barca signing Paulinho embarrassing
The timing of this year's deadline has left several players in limbo, with Everton playmaker Ross Barkley, Swansea City midfielder Gylfi Sigurdsson and Southampton defender Virgil van Dijk among the high-profile transfer targets still seeking clarity about their futures.
The proposed deadline reportedly will only apply to incoming transfers, with Premier League clubs still permitted to sell players abroad after the season starts.