Red Bulls pay the price for changing their style in costly loss to Atlanta
The New York Red Bulls and Atlanta United were supposed to give us the best playoff battle in MLS history. Two teams with the highest point totals ever amassed and two contrasting styles that should have made for an epic clash between Atlanta's irresistible attack and the Red Bulls' immovable defense. 
Unfortunately for the Red Bulls, they didn't stick to the script on Sunday night and picked the worst possible time to go away from the approach that had helped make their season so special leading up to Sunday. 
Rather than pressing Atlanta United and trying to force mistakes, the Red Bulls began Sunday's Eastern Conference finals opener sitting back and absorbing pressure against a side built to destroy teams that take that approach. 
Like someone deciding it would be a good idea to fight a shark in the water, the Red Bulls were punished for their mind-boggling decision. They were torn apart by Atlanta United, suffering a 3-0 loss that was fully deserved, but one few could have envisioned heading into Sunday.
"I think, just looking at the way that we gave up the goals, we lacked some discipline. We made it a little too easy for them," Red Bulls goalkeeper Luis Robles said. "When you have a team as talented as them, and you make mistakes, they are going to punish you."
The New York Red Bulls put together the best regular season in Major League Soccer history in 2018 and did so by imposing their will on opponents with an irrepressible high-pressing system. That same system helped the club compile a 3-0-1 record against Atlanta United over the past two years and saw them dominate Sunday's opponent in their most recent meeting, a 2-0 Red Bulls win on September 30. 
What stood out about that September performance was how fearless the Red Bulls were, and how they went after Atlanta, squeezing the life out of the attack in one of the best performances of the season. 
That's what the Red Bulls needed on Sunday at Mercedes-Benz Stadium, in front of a crowd of 70,000, but instead of stifling Atlanta, they gave the Five Stripes room to breathe and control the play, which led to a far-too-comfortable first half, and an opening goal that was a direct product of the Red Bulls' lack of defensive pressure.
"I think the biggest change was we knew we had to match the intensity of the Red Bulls," Atlanta United coach Tata Martino said. "In the last game we played there, we were not able to do that. That was the biggest difference."
Red Bulls coach Chris Armas' decision to have his team sit back rather than pressure resulted in a team that never looked in sync. New York looked tentative, a word you just aren't used to hearing associated with the 2018 Red Bulls.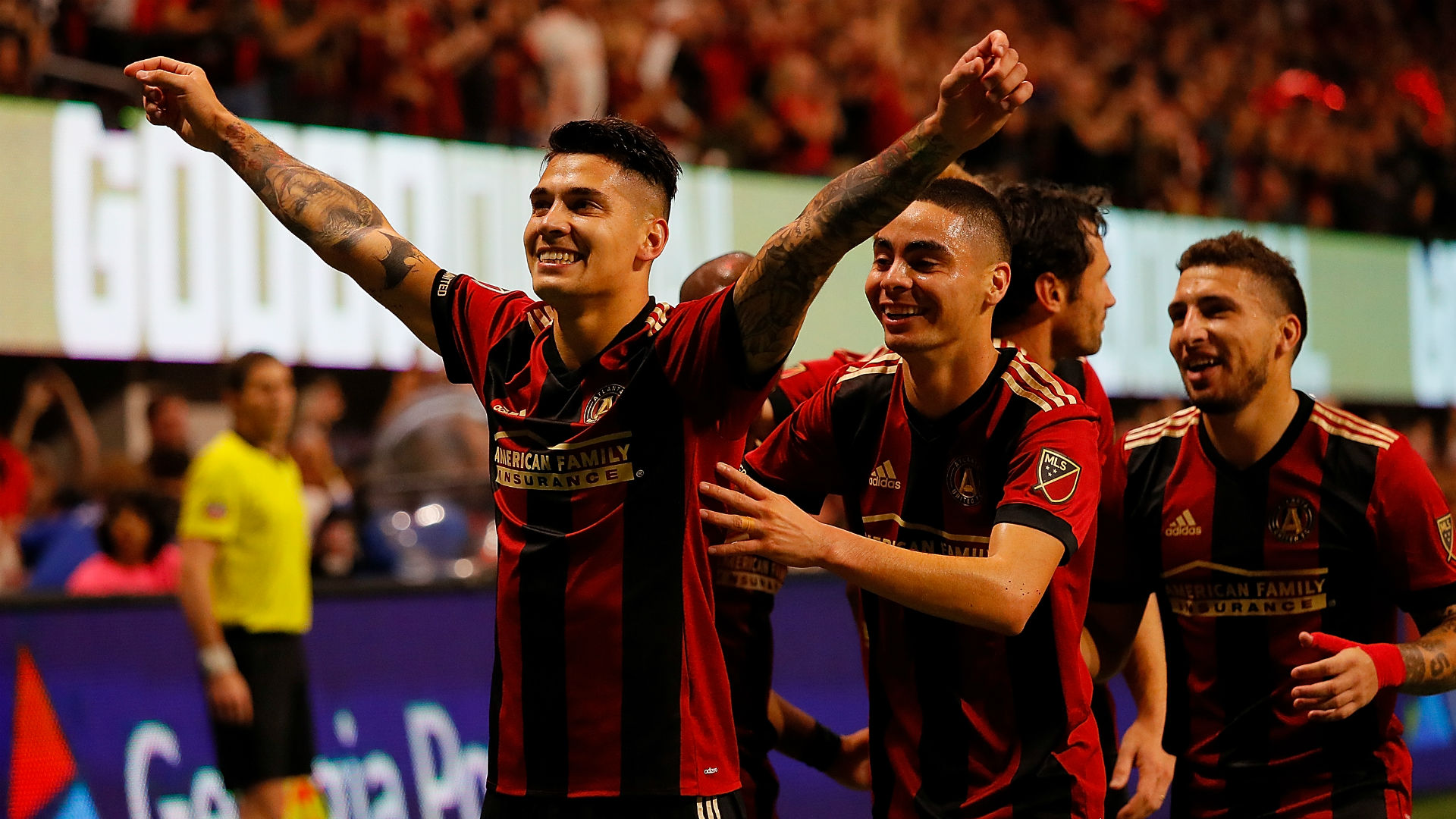 For a moment in the second half the Red Bulls looked like they might not be punished for starting out so tentatively. Bradley Wright-Phillips scored what would have been an equalizer before referee Kevin Stott consulted VAR and determined that Alex Muyl was in an active offside position on the goal.  
That goal threatened to take the air out of Atlanta United's balloon. Instead, it was the overturning of that goal seemed to rejuvenate the home side and stun the Red Bulls, who began looking more and more like a team simply trying to escape the road leg rather than one with the belief it could turn things around.
"You score a tying goal that gets called back, yeah it deflates you a little bit, but Atlanta put a lot into it," Armas said. "All of their players fought hard the whole time. It is always a little bit of a letdown if a goal is called back, but we didn't make enough plays on each side of the field. We let ourselves down that way."
Things only got worse for the Red Bulls after Franco Escobar's goal made it 2-0, but rock bottom came after another uncharacteristically bad defensive sequence allowed Hector Villalba to atone for a painful miss just a few minutes earlier. He curled a 20-yard shot into the low corner of goal for a third Atlanta United goal that moved the Red Bulls from life support to laying in a coffin, with Thursday's second leg at Red Bull Arena now feeling like a formality and essentially a funeral for a Red Bulls season that had shown so much promise. 
Sure, you can argue that it's technically only 'halftime' in series and that the Red Bulls still have 90 minutes to become the latest MLS team to conjure up a playoff miracle. Realistically speaking though, the Red Bulls aren't a team that is built to post a 3-0 win against a team that will have the luxury of sitting on comfortable cushion and the knowledge that one away goal would put the series out of reach. 
Armas will carry the bulk of the blame for New York's first-leg disaster, and rightly so, but Atlanta United deserves credit for having the confidence to believe in its style and the courage to jump all over an opponent it had never beaten before.
An opponent that inexplicably chose to go away from its winning style when it needed it the most.