Rangers
Rangers boss Caixinha: I'm addicted to winning like a vampire is to blood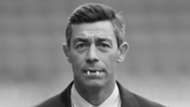 Rangers boss Pedro Caixinha has likened his addiction to winning to that of a vampire's thirst for blood.
The Portuguese takes his side to Hampden Park on Sunday afternoon to tackle Motherwell in the semi-final stage of the Scottish League Cup, with a place against Celtic in the final the prize.
Rangers 11/4 to beat Motherwell 1-0
Caixinha knows what it takes to win silverware - the 46-year-old coach led his Santos Laguna side to three pieces of silverware during his two-year stint at the club, including the Liga MX title.
And Caixinha is looking forward to lifting his first trophy as Rangers boss and is hopeful a win against Motherwell could boost the momentum of the club.
"It means it is only the first one," Caixinha told reporters. "The vampires taste the flavour of the blood and they want more, they need it.
"It's the same with the competitive teams and clubs, competitive players and competitive managers. They like the way the blood tastes.
"I did it at Santos Laguna in Mexico and it's like a sort of addiction, you know?
"People are addicted to smoking or eating good or playing sport. I am an addict to the win – that's why I work so hard because my focus is to win. And if the addict doesn't get his fix? Keep working.
"I was addicted to winning when I started coaching and started with the Under-14s, it was on the inside of me.
"After that, I went to the Under-17s and it was the same. Then I went to the Under-19s, then an amateur team then Sporting of Lisbon. I went all the way as an assistant wanting to win.
"Next I went to a lower team in the Portuguese league and my desire was winning. That's my essence.
Celtic currently top the Scottish top tier, joint on points with Aberdeen, with Rangers and Motherwell in third and fourth respectively.