Primera División
Ramos: Ronaldo has to run as much as everyone else at Real Madrid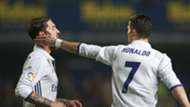 Sergio Ramos has denied saying that Cristiano Ronaldo has a licence to take it easy on the field, stressing that Real Madrid play - and run - as a team. 
The central defender had been quoted by certain media outlets as asserting that Ronaldo was the only Real player under no obligation to run during matches. 
But speaking on Saturday following the club's 4-1 win over Eibar, Ramos insisted there was no truth to those reports. 
Mourinho: We stopped practicing penalties
"It is not true. You have to inform yourselves, look at the evidence and tell the truth. We got together at half-time against Las Palmas, what we talked about did not leave there and I am glad of that," he explained to reporters. 
"The other day I did not say Cristiano does not have to run, we all run here. We are all equals and the key is in our competitiveness. 
"That was shown today with players who are not always in the first team and they are hungry, they press and they run. 
"I will not reveal what was said, but it does annoy us. [Luka] Modric usually talks and the other he didn't, and right away it is said he gave Isco and [Alvaro] Morata an earful. Go and look for the informant. I understand you have to sell newspapers but credibility should come before everything."
Crazy Alexis call backfires on Arsenal
Saturday's victory was achieved without Ronaldo nor Bale, with the latter suspended following a red card midweek against Las Palmas. 
But Ramos underlined that there was plenty of depth in the Madrid squad to ride out those absences. 
"Everyone has their own tastes, some like Maradona and others Messi, football has a lot of players to choose from," he added.
Madrid currently lie second in La Liga, one point behind Barcelona with a game in hand.