Arsenal
'Rafa Benitez is wrong man for Arsenal' - Merson eyes entertainer after Wenger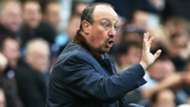 Rafa Benitez is the latest candidate to be mooted as a possible successor to Arsene Wenger at Arsenal, but Paul Merson considers him to be wrong for the job.
Having helped Newcastle to down the Gunners in their latest Premier League outing, the former Liverpool boss has drawn support from a disgruntled fan base at Emirates Stadium.
Fresh calls have surfaced for Wenger to be relieved of his role in the summer, as Arsenal head towards a sixth-place finish at best and cling to the hope of securing Champions League qualification through a Europa League triumph.
With Benitez having previously taken in a successful spell at Anfield, while also bossing Real Madrid, Chelsea and impressing with Newcastle, his experience is seen by some to put him in the frame for a potential vacancy in north London.
Merson, however, is not convinced, with the former Gunners midfielder telling talkSPORT: "I like Benitez – he is one of the top managers.
"I just think Arsenal [fans] want to see entertaining football, and I know this might sound a bit silly, but they want to see teams who go out to win football matches.
"Benitez sort of sets his teams up – even at Liverpool – not to get beaten, and you go from there.
"Arsenal fans are staying away at the moment because it's not entertaining enough, and I think they will need someone with a little bit more flair.
"They need someone with longevity – someone who will get a four or five year contract and stay there – because you don't want a Manchester United situation, where they change the manager many times quickly after Sir Alex Ferguson."
While suggesting that Wenger could well be on his way out of Arsenal this summer, Merson remains torn as to the merits of managerial change.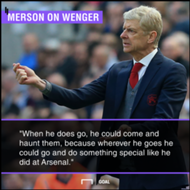 He is among those to have criticised the Gunners in recent years, but he also fears that parting with a proven coach could come back to haunt them in the long run.
The ex-England international added: "I think he'll be a manager somewhere else. He'll get a job in two minutes when he leaves Arsenal. He'll want to manage again.
"I look at Arsene Wenger and football is his life. He will manage again.
"That is the problem for Arsenal. When he does go, he could come and haunt them, because wherever he goes he could go and do something special like he did at Arsenal."
Wenger is currently tied to Arsenal until the summer of 2019, but has faced opposition to his reign for some time now and needs to prove to the Gunners board that he remains the best man for the job.