Gaming
Fantasy Football: Walker's Man City move to have ripple effect on Trippier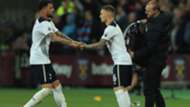 Manchester City have now signed right-back Kyle Walker from Tottenham. After years of relying solely on his pace, Walker improved rapidly after the arrival of Mauricio Pochettino in 2014.
Spurs have allowed the fewest Premier League goals in each of the past two seasons and, as such, the England international has seen his Fantasy value soar. In the Goal game last season, Walker finished with 131 points which made him the fourth-highest scoring defender and 36th best player overall.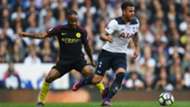 His five assists were tied for the most at his position while his 14 clean sheets placed him in the top 10. That kind of Fantasy production is sorely needed at Manchester City as every defender at the club managed just seven combined assists. Whoever ends up playing on the right wing will also benefit from lessened defensive pressure as Walker constantly looks to overlap out wide.
As for how he projects in Pep Guardiola's side, the Englishman should make over 30 starts as there is currently no other competition for his spot save for Fernandinho who is far better served in the midfield.
With all of those positive statistics, you may assume Tottenham would be worse off without Kyle Walker, right? You'd be surprised. His immediate replacement, Kieran Trippier, was phenomenal towards the end of last season, making all six of his starts in the club's last 10 matches.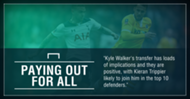 In that brief time, he earned five assists which, as you will recall, is the same as his departing team-mate, yet Trippier managed it in just 566 minutes. Defensively, Tottenham were fantastic with the former Burnley man as well, earning five clean sheets in just six matches.
If you expand that over a full season, his 7.4 points per game would have made him the best defender in the goal game, a whole 1.7 ppg higher than the actual leader, Marcos Alonso. If Trippier manages to even somewhat replicate last season's performances, his 5.9 price tag (35th among defenders) makes him a must-own.
This real-life transfer has loads of Fantasy implications and, frankly they are all positive. Come the end of the season, both Walker and Trippier will likely end up in the top 10 for defenders and should be owned as such. As for their respective clubs, both Tottenham and Manchester City should finish in the top five defences in the Premier League, making most of their starters viable Fantasy options as well.