Premier Futsal unveils Season Two with scouting program LaunchPad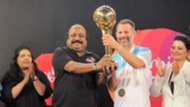 Premier Futsal, the world's most watched domestic futsal league in the world, saw wraps come off its highly anticipated second season at a function in India's capital, New Delhi, on Thursday, 9th March. 
The management has introduced a wide range of improvements to the competition following its first season, the major ones being an increase in the number of matchdays from eight to 14, while there will be a significant increase in the number of matches itself - rising from 15 to 27. The second season will also grace three cities - compared to just two, while there final will be staged on foreign shores.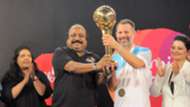 Besides a facelift to the tournament, the founders of Premier Futsal - Managing Director Dinesh Raj, Chief Executive Officer (CEO) Abhinandan Balasubramanian and Director of Finance and Compliance Nithyashree Subban, along with Principal investor Xavier Britto - sounded the inaugurating bugle over their brainchild LaunchPad. 

Thiago Silva is the worst captain ever
In an avatar as the first-of-its-kind initiative, LaunchPad will act as a global scouting and talent identification program, where amateur players will get to audition and showcase their skills to be selected for their city teams at the event. Most importantly, these players will then be mentored by football's superstars while at the same time getting an opportunity to rub shoulders with some of the best futsal players on the globe.
To this effect, Premier Futsal has agreed to partner with the Indian government with an aim to bolster its talent pool through community inclusion and ensuring its reach stretches to all regions of the country. The initiative is aimed at scouting and identifying up to five local players for each city-based team from 2000 players. The registration for the talent hunt will begin from 10th March and last for up to a month, till 10th April.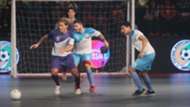 Applicants must be between 18 and 30 years of age. Shortlisted players will be trained rigorously in their respective cities with chief evaluating factors encapsulating physical fitness, mental agility and technical capabilities such as dribbling, positioning, passing, tackling and positioning.    
The launch itself was star-studded. In presence were Luis Figo, the President of the competition, Ryan Giggs, 13-time winner of the English Premier League (EPL) with Manchester United, Alessandro Rosa Vieira, also called Falcao and Ms. Vimala Britto, the co-promoter of Premier Futsal. 
Wenger will consider fans' views
The former Portuguese international Figo elucidated, "My association with Futsal has been a special one. The 2016 edition of the tournament brought back memories of enjoying the sport back in my hometown in Portugal. Season one of the tournament was a great experience as it allowed me to experience and view first hand, the potential India holds in this sport. 
"We were able to unearth some very promising, young players who rose to the occasion when needed and contributed to the quality of futsal played on court, a first-of0its-kind in the world. With season two, we seek to be bigger and reach out to a wider audience potentially changing lives via LaunchPad, which is going to act as a great awareness campaign for the sport and promote community building through youth engagement."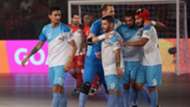 Giggs, a winner of the Futsal's inaugural edition, expressed, "There certainly is interest in Futsal but you need to get infrastructure and then need exposure. Having professional futsal player and experienced players will aid Indian players in getting the perfect mix of exposure and experience. We need boot camps and infrastructure. This will hopefully grow the interest." 
He further added, "Last season was the first for many. Of course, I want to win. I am new to Futsal and Falcao is the best. It was different for me and I had to adapt." 
Season one of Premier Futsal was watched by over 61 million people worldwide. The tournament was broadcast throughout the United Kingdom, Europe, South America, South-East Asia and the Middle East.