Paul Pogba
Zouma: Pogba gets mad when he loses at Uno!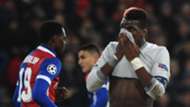 "The other day, I went to his house and beat him at Uno," Kurt Zouma recalled as he explained his friendship with Paul Pogba to Goal. "He was so, so, so angry [laughs]. He didn't want me to come anymore.
"He told me he didn't want me to come anymore to his house [laughs]. I said 'my friend, please, it's only Uno that we're talking about.'"
Kurt Zouma and Paul Pogba were once France's wonderkid pairing. Both called up to the Under-18s team at the same time, Zouma was a year younger than Pogba when he headed to meet up with Les Bleus, and had already made his Saint Etienne debut. Pogba, meanwhile, was the jewel in Manchester United's academy, prior to his switch to Juventus and eventual, triumphant, return to Old Trafford.
Kurt Zouma jokes that he's BANNED from Paul Pogba's house! pic.twitter.com/6i80JeXYMG

— Goal UK (@GoalUK) November 28, 2017
Their paths have remained linked throughout their career, and still live close to each other in England. Zouma has joined Stoke City on a season-long loan deal from Chelsea, and Pogba recently attended his friend's birthday party as he turned 23.
And Zouma is not surprised that Pogba, with whom he won the Under-20 World Cup in 2013, has become one of the most valuable players on the planet - he was, prior to Neymar's €222 million move to PSG, the most expensive footballer in the world.
"I have known him since I was 17," Zouma added. "I think we were playing together in the U18 national team. When I saw him for the first time, I said wow, this guy is going to be one of the best footballers for sure because he was so good already when he was young.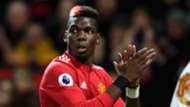 "The relationship is good because we talk in French. We listen to the same music, we both love to dance. He is always laughing like me and he's a good guy now. I live maybe 15 minutes away from his house so I go to his house, he comes to my house. He's a very, very good friend.
"Since I saw him for the first time, playing in the [France] U18s against Spain, I knew he was going to be a great player. One of the best. He has got everything. Strong, quick, passing is good, shots, he's got everything. He's a very nice player.
"You have to say, he loves the haircuts, he loves doing that. I told him to stop but he won't stop, but you know it is good. Pogba is one of the best players, he's got everything, as I said. That's why people talk about him because he's so, so good.
"Of course, he is one of the leaders. Him, [Antoine] Griezmann and [Raphael] Varane. We have got great leaders in the team. Pogba, even at 24 years old, he has to help the team to win the World Cup. He is one of the main players in the squad. That's it."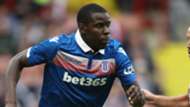 As Pogba left Manchester United to become Juventus's brightest young talent, Zouma was starting to make an impact under Jose Mourinho at Stamford Bridge.
The defender was promised first-team football by Jose Mourinho, now Pogba's manager, and he was successfully integrated at Stamford Bridge, but his development was curtailed by an anterior cruciate ligament injury, sustained, ironically, against United.
Zouma insists that the moment was the worst of his career, and he was subsequently inundated with messages of support on Twitter, including from rivals Benjamin Mendy and Ashley Young.
"It hurts [tearing your ligament]," Zouma said. "It is the past but it is my worst moment in football. Definitely, the worst moment in football. I hope no one gets this [injury]. My worst moment definitely.
"My family, my wife and my kids were always behind me. My family also, I used to go back to France to see them [while injured]. They always said the right things to me.
"It was good motivation to see them and speak with them. Also my brothers are always behind me. My team-mates, Eden [Hazard] and all the boys from Chelsea. So yes, I had quite a few people behind me.
"It feels very good. It feels like people know you [when they Tweet their support]. They know that the injury you had was bad. This is good, that's why we play football, these are friendly people. We respect each other, so it is a good thing.
"For example, the injury that Zlatan Ibrahimovic had was almost exactly the same as mine. When he had that injury, I saw myself doing that so I sent him a text straight away. I know the feeling that he had and the time it would take to come back. It is all about respect in football.
"It doesn't matter who you play for or who you are, just wish good luck to people that get injured. When I was injured, my rehabilitation was long, it was very, very hard work to come back the same as before. I worked hard in the gym, on the pitch with the balls.
"I learned a lot watching the games when I was on the bench and now I am playing. I feel ready for everything.  I think I did a great job because when I look back to the injury, it was very, very bad. At first, I was scared a bit, if I come back but I was so determined and my family was behind me.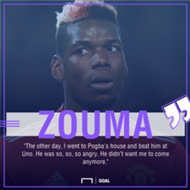 "They said 'listen, you are so lucky [to have this now] because you are so young and the surgery was good. Now, work and work, keep focused'. Now I am back. I am playing every game and enjoying my time here.
"The target was to play every game, there's still a long way to go but at the moment I am very happy so, I hope I can keep going like this. I feel back now. I feel 100%. I play every minute. I feel okay now but the season is still long, I need to play and improve my game in every aspect.
"Physically, technically, tactically, everything. I am still young. I have got time to learn but I am ready."
Mark Hughes has given Zouma a full 90 minutes in each of Stoke's Premier League games this season, except against Chelsea, where the France international was ineligible to play against his parent club.
While Pogba is local to Zouma, the 23-year-old has struck up an immediate bond with both Mame Biram Diouf and Eric Maxim Choupo-Moting, and has credited the pair for speeding up his adaptation to his new surroundings.
"They talk French so it is easier to talk with them because I am French," Zouma added. "They are really, really nice people. Mame is here for five years so he knows the club very well. I call him uncle, he's my uncle. I also call him 50 Cent because he looks like 50 Cent so much. It is so funny, when you look at him, you see 50 Cent, definitely.
"Chupo, we arrived together here, we stayed in the same hotel. I used to give him lifts to training. So I know him, he's like part of my family. He's a very, very good guy. He's nice, so funny. He's like my brother now.
"Of course [it has helped me settle quickly]. Even with the others, I talk with them. I joke with them, it is a very, very good dressing room. It is a family club. They are all friendly. They are all kind with me.
"When I arrived here they took me in so well. I felt great since day one. You know me, I am a happy guy. Also laughing and joking with people. I try to be good with everybody so it is no problem."
However, Zouma's form is now key to seeing Stoke climb up the table after an underwhelming start.
The club are currently 15th in the Premier League, after winning just three of their opening 13 games of the season, but Zouma believes they can only get better.
He said: "I think we don't deserve that. We are a lot better than that but you know it is the Premier League. You can have a strong team but in the games, difficult things happen. Every game is different and that's why everybody loves Premier League because you never know when you are going to win or lose.
"It is very very tight to win a game. We have a very talented team, a lot of strong players who are very good. We are good and compact but the thing is we need to win games. In the Brighton game, I think we could have won this game but it is football and the Premier League."